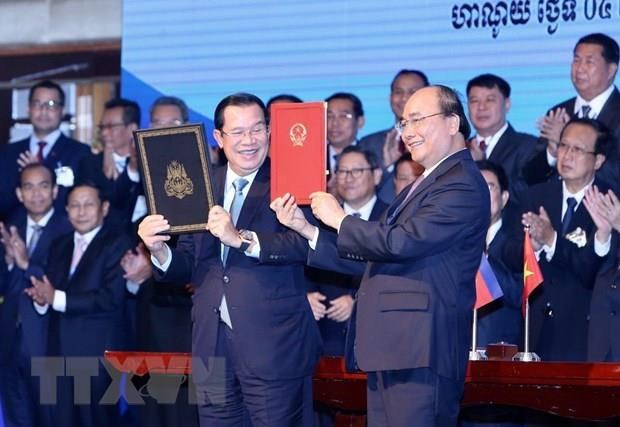 PM Nguyen Xuan Phuc and PM Samdech Techo Hun Sen sign Supplementary Treaty to the 1985 Treaty on the Delimitation of National Boundaries and the Supplementary Treaty 2005 (Photo: VNA)
Prime Minister Nguyen Xuan Phuc and his Cambodian counterpart Samdech Techo Hun Sen co-chaired a conference in Hanoi on October 5 to review land border demarcation and marker planting work of the two countries in the 2006 – 2019 period.

Vietnam and Cambodia share about 1,245 km of border line. The two countries have been conducting boundary delimitation and border marker planting work since early 1986 based on signed agreements. As of December last year, they completed about 84 percent of the workload.

At the conference, the two government leaders signed a Supplementary Treaty to the 1985 Treaty on the Delimitation of National Boundaries and the Supplementary Treaty 2005 between Vietnam and Cambodia.

They also witnessed the signing of a protocol on land border demarcation and marker planting between the two countries.

Speaking at the event, PM Phuc hailed the completion of 84 percent of border delimitation work as of December 2018, saying that it is an important achievement of bilateral cooperation to settle border issues.

He said the two newly-signed documents, along with other legal agreements related to border already signed, will create an important legal framework for borderline management and development between the two countries, for the sake of peace, stability, cooperation and sustainable development.

PM Hun Sen, for his part, said the signing of the two historic documents demonstrated a proud step forward of Vietnam-Cambodia cooperation in settling border issues.

"That is the result of the efforts of the Vietnamese Prime Minister and me, along with the Vietnam-Cambodia joint border committee and administrations at all levels of the two countries over the past 14 years, since after the signing of the supplementary treaty in 2005," he said.

The Cambodia PM said Cambodia is paying more attention to the construction of infrastructure, roads, markets and production facilities in border areas, thus benefiting residents of both countries and contributing to cooperation and development among Greater Mekong Sub-region countries and ASEAN member states.

He called on the two countries' authorities and citizens to build a borderline of peace, friendship, cooperation and development.

The two leaders agreed to direct units concerned to continue working closely in the work.

PM Phuc suggested the two countries cooperate to devise an agreement on border and border gate management regulations to replace the agreement signed in 1983.

Source: VNA