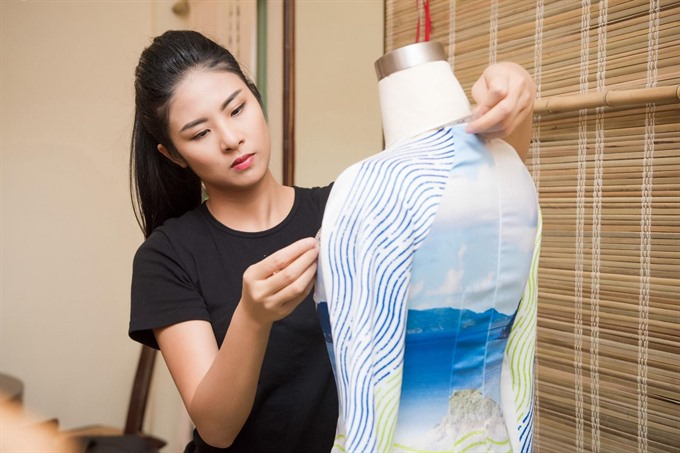 Designer Ngoc Han prepares a design in her ao dai collection inspired by Vietnamese seas and islands (Photo: VNA)
Designer Dang Ngoc Han presented a collection of ao dai (Vietnamese traditional dress) inspired by the Vietnamese sea and islands in France on November 22 night.

The clothes are part of an event organised at UNESCO's head office with the theme Vietnam's Seas and Islands – The Timeless Charm.

Han has spent the last two months creating the collection, printing images of the country's seas and islands onto the fabric.

"I'm trying to introduce the beauty of Vietnamese nature to international audiences through the collection," she said. "At the same time, I want to promote images of ao dai, the symbol of Vietnamese culture."

The ao dai fashion show was followed by a photo exhibition introducing destinations in Vietnam such as Ha Long Bay, Phu Quoc Island and the Truong Sa (Spratly) Archipelago.

On the occasion, France's La Poste released a stamp set featuring the beauty of famous seas in Vietnam.

Participants at the event also enjoyed traditional Vietnamese music and signature dishes.
Source: VNA