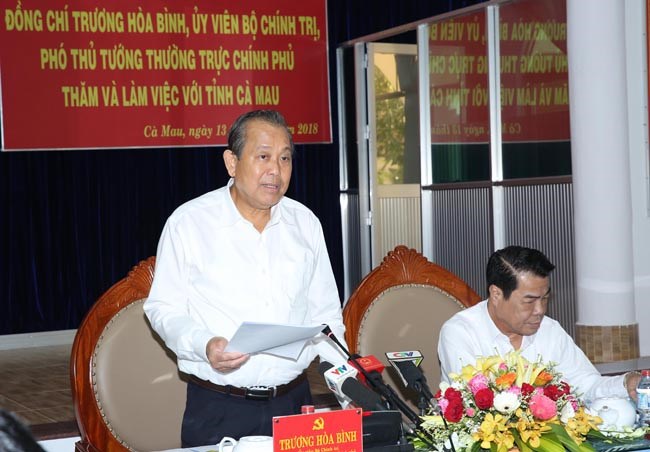 Permanent Deputy Prime Minister Truong Hoa Binh (L)(Source: Internet)
Permanent Deputy Prime Minister Truong Hoa Binh has asked the southernmost province of Ca Mau to fully tap its potential in aquaculture and expand marine-based economy for sustainable economic development.

During a working session with the provincial leaders on January 13, Binh suggested Ca Mau soon deploy Hon Khoai deepwater port project in Hon Khoai island, which is capable of handling vessels weighing up to 250,000 tonnes, thereby helping to reduce transportation costs and improve competitiveness of local exports.

Ca Mau needs to pay attention to reviewing its master plan on socio-economic development in combination with ensuring national defence-security, as well as restructuring the economy and renewing growth model, he said.

In order to lift up its rank in the provincial competitiveness index (PCI), the province should improve the efficiency of administrative reform and business climate, the Deputy PM noted.

Binh suggested Ca Mau multiply production models that are adaptive to climate change, step up agricultural restructuring in tandem with new rural development, develop industries to serve high-tech agriculture and services of high added value, enhance regional connectivity for socio-economic development and national defence-security in the province and the whole region.

The province needs to actively cope with disasters and landslide by building dykes and works in response to climate change, deal with pollution "hotspots" and ensure social welfares for local people, he stressed.

Last year, the province's gross regional domestic product (GRDP) was estimated at 37,847 billion VND (1.67 billion USD), up 7 percent year on year. The State budget collection hit 4,183 billion VND, or 101 percent of the estimate.

Exports rose 13 percent to 1.1 billion USD while the rate of poor households was reduced to 5.9 percent and 29 communes were recognised as new-style rural areas.

In the afternoon of the same day, Deputy PM Truong Hoa Binh visited and presented gifts to policy beneficiary families in the province.
Source: VNA