Many scholars from countries that claim no territory in the East Sea have said that maintaining maritime freedom, devising coordination mechanisms and controlling conflicts on the basis of respect for law and mutual trust between concerned parties are important to settling disputes.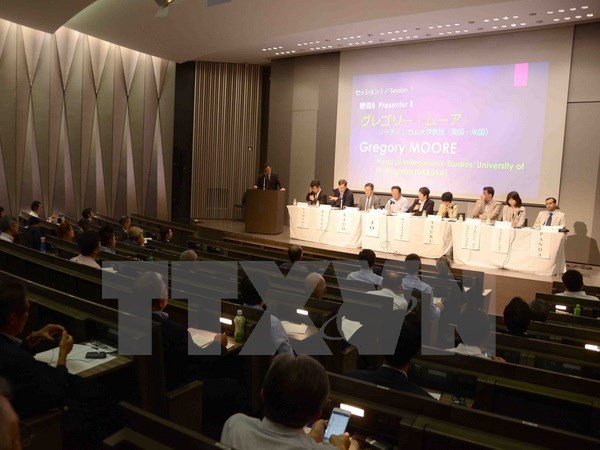 The Tokyo workshop on East Sea issue (Source: VNA)
They talked about the East Sea issue at a workshop held by the Meiji Institute for Global Affairs and the Meiji Institute for International Political Studies in conjunction with the Japan Forum on International Relations and the Centre for Studies in International Crises and Conflicts at Meiji University in Tokyo, Japan, on September 25.

Looking into the East Sea situation, the delegates expressed their concern over maritime security in the area and proposed measures to manage the disputes, maintain navigation freedom and ensure interests of all relevant parties.

Terashima Hiroshi, former Chairman of the Ocean Policy Research Institute, said concerned parties and scholars should increase dialogues in order to build a basic foundation for dispute settlement.

ASEAN nations, especially those surrounding the East Sea, should receive support to improve their capacity to implement the 1982 UN Convention on the Law of the Sea and protect maritime security, he said.

Prof. Sato Koichi from the Tokyo-based Oberlin University affirmed the East Sea's important role to the regional and global economies, including Japan, explaining that 60 percent of the country's energy supply resources traverse the sea.

The ASEAN countries that claim sovereignty in the East Sea have friendly ties with Japan, he added.

Given this, the professor suggested rolling out a maritime security mechanism between Japan and ASEAN similar to the Japan-ASEAN Foreign Ministerial Meeting or the East-Asia Summit.

He also proposed building a centre to exchange information about maritime security in the East Sea with the participation of different forces from the relevant countries, and building a mechanism to supervise and prevent maritime security incidents.

Prof. Jagannath Panda from India's Institute for Defence Studies and Analyses said that the East Sea is very important to the economy and security of India, the region and the world. Therefore, dispute settlement should be based on multilateral views.

He suggested establishing a navigation agreement between regional countries, stressing that maritime freedom contributes to deepening economic and trade ties between the nations, along with cooperation mechanisms that ensure the balance of security.

The workshop took place in the context of China and ASEAN being close to reaching a framework of a Code of Conduct in the East Sea.
Source: VNA