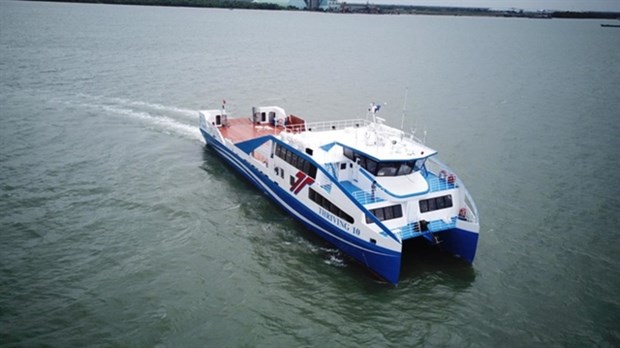 A ferry service between Can Gio district in HCM City and Vung Tau in the coastal southern province of Ba Ria-Vung Tau is expected to start operating by the end of December. (Photo courtesy of the HCM City Department of Transport)
A ferry service between HCM City's Can Gio district and Vung Tau city in the coastal southern province of Ba Ria – Vung Tau will be put into service by the end of December.

Nguyen Quoc Chanh, Director of the Quoc Chanh Company, the project developer, said the ferry terminals at both ends of the Can Gio - Vung Tau route have been completed and the inauguration of the ferry route is planned for December 29.

"The ferry's test run is expected to take place on December 25," he said.

The ferry, 45m long and 10m wide, has a maximum speed of 43km per hour. It can carry passengers as well as cargo.

Initially, two large-sized ferries will be able to carry 350 people, 20 cars, 100 motorbikes and goods. There will be 24 trips a day with one-hour intervals.

The 15km trip will take half an hour. A trip by bus from HCM City's centre to Vung Tau usually takes two hours.

The ticket price is expected to range between 50,000 VND (2 USD) and 70,000 VND (3 USD). Different fares will apply, depending on whether customers use motorbikes or cars, according to Chanh.

The ferry was originally scheduled to open on April 30, but was delayed due to the COVID-19 pandemic.

According to the provincial Department of Transport, road infrastructure near the ferry terminal in Vung Tau will be improved.

Currently, hydrofoil services and coaches operate between the city and Vung Tau.

The new ferry will offer a convenient means of travel for locals and visitors travelling between the two cities.

There is huge demand for travel from HCM City to Vung Tau, which is 120km away.

Developing waterway transport to reduce traffic pressure on roads, especially on weekends and holidays, is one of HCM City's major transport goals./.

VNA