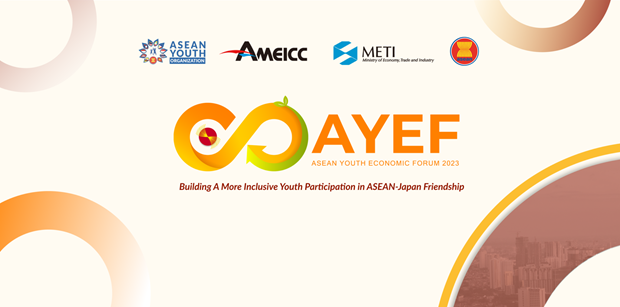 In commemoration of the 50th Anniversary of ASEAN-Japan friendship and cooperation under the theme of Golden Friendship, Golden Opportunities, the ASEAN Youth Organisation is organising the first and largest ASEAN Youth Economic Forum in Southeast Asia. (Photo: aseanyouth.net)
A blueprint that sets the future direction of the ASEAN-Japan economic partnership for the next decades is now under discussion.
Speaking at the recent ASEAN Youth Economic Forum 2023 held in Jakarta, Japanese Ambassador to ASEAN Kiya Masahiko said that his country has always been and will always be with ASEAN to overcome challenges.
ASEAN and Japan are entering their 50th year of relations this year. However, their relationship has dramatically changed over the past decades, not to mention the common challenges that both sides face.
Japan supported ASEAN's industrialisation and economic development. However, it is today facing economic stagnation and an aging population. ASEAN, on the other hand, is flourishing into an economic growth centre, and now has other countries like China and the Republic of Korea actively investing in the region.
Ambassador Kiva said that Japan is pushing for ASEAN to "co-create" a vision that can redefine their economic ties for the coming decades. Accordingly, the vision will encompass four pillars of action, among others, promoting open innovation beyond borders.
Ryosuke Fujioka, the chief representative at the ASEAN-Japan Economic and Industrial Cooperation Committee (AMEICC), told reporters on the sideline of the forum that the 2023 ASEAN Youth Economic Forum creates a chance for Southeast Asian youths to give their input into this vision with discussions focusing on the circular economy.
He described the ASEAN-Japan trade pattern as "somewhat unique".
Kao Kim Hourn, the secretary-general of ASEAN, said at a conference on ASEAN-Japan relations last month that the bloc is aiming to expand the "one-stop shop" with Japan, thereby increasing two-way trade in 2023.
The Southeast Asian bloc posted 240.2 billion USD in trade volume with Japan in 2021, up by 17.2% year-on-year, which made Japan ASEAN's third-largest trade partner.
Japan is also ASEAN's fourth-largest investor as direct investment from Japan in ASEAN rose 3.5% year-on-year to 12 USD billion in 2021./.
VNA