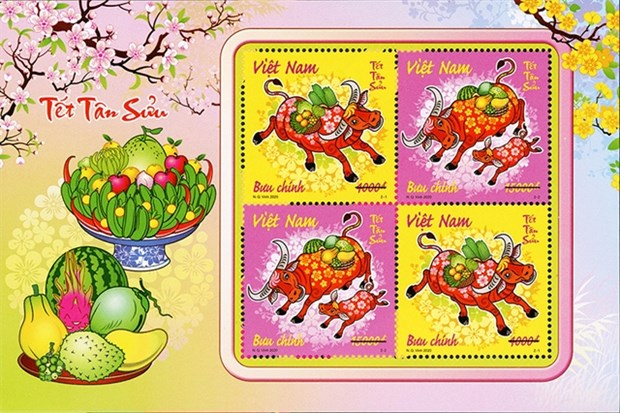 Stamps portraying a happy family of water buffalos have recently been released to celebrate the upcoming Tết (Lunar New Year). (Photo www.vnpost.vn)
A collection of stamps featuring folk paintings of Vietnamese buffaloes has been released by the Ministry of Information and Communications in celebration of the coming Tet (Lunar New Year) festival.

As the coming lunar year is the Year of the Buffalo, which begins on February 12, 2021, the paintings of the buffaloes that symbolise industriousness and patience have been chosen to be featured in the stamp collection, with a desire to bring happiness, reunion, luck and fortune to all people and families.

The first stamp design describes the image of a red buffalo carrying fruit baskets on his back and dong leaves that are used to wrap sticky-rice square cake with a cheerful face flying over a flower field.

The second design conveys the image of a mother buffalo looking at her kid with eyes full of love. Both of them are wearing yellow ochna flower dresses. While the mother buffalo is carrying Tet fruits on her back, her son is running along with a joyful expression to welcome spring.

The stamp block consists of four stamps with two designs used twice and arranged symmetrically in a square. They portray peach and ochna blossoms and trays of five fruits offered to ancestors with best wishes for a year of wealth, happiness, reunion and prosperity to all families. Particularly, the tail of the father buffalo in the first design and the mother buffalo in the second shape a symbolic heart for forever happiness.

Designed by artist Nguyen Quang Vinh, the stamp set is available on the public postal network from December 12 to June 30, 2022.

Tet (Lunar New Year) is the largest and most important traditional festival of Vietnamese people./.

VNA