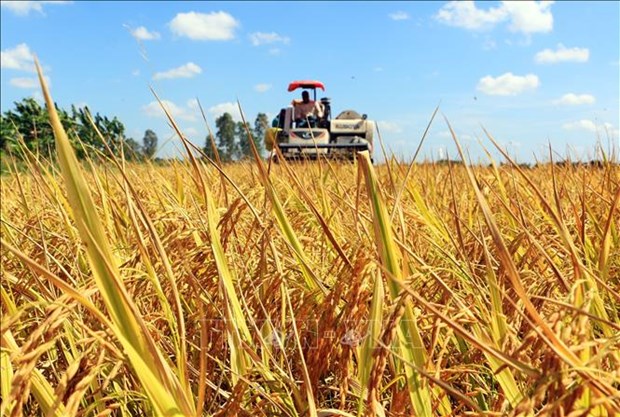 Illustrative image (Photo: VNA)
The Ministry of Agriculture and Rural Development (MARD) held a workshop in the Mekong Delta city of Can Tho on March 17 to collect feedback on a scheme on sustainably developing 1 million ha of high-quality rice in tandem with green growth in the Mekong Delta.

So far, 12 out of 13 localities in the region have registered for the scheme, with a target of having 719,000ha of high-quality rice by 2025 and over 1 million ha by 2030.

An Giang province has the largest registered area for high-quality rice cultivation, with 150,000ha by 2025 and 200,000ha by 2030.

Speaking at the event, Deputy Minister of Agriculture and Rural Development Tran Thanh Nam said the MARD partnered with the World Bank and relevant agencies to finalise and submit the scheme to the Prime Minister for approval.

Guo Li, the senior economist from the World Bank, said through the project, farmers' income is expected to increase by about 20% as production costs decrease while productivity and quality improve. Efforts will be made to mitigate environmental pollution and restore the rural ecosystem.

Delegates at the event discussed building specific criteria for each intensive farming area, providing training on the carbon market and certification, developing legal frameworks related to the issuance of low-carbon credits, and funding for infrastructure such as roads, electricity, embankments, inland waterways, irrigation, and pumping stations./.
VNA