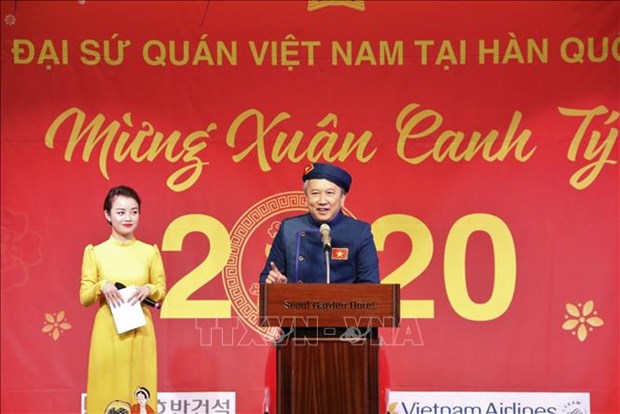 Vietnamese Ambassador to RoK Nguyen Vu Tu speaks at the get-together. (Photo: VNA)
Vietnamese communities in many countries are celebrating the traditional New Year (Tet) on lunar calendar, which falls on January 25 this year, with various activities.

A get-together in Seoul, the Republic of Korea (RoK) on January 12 brought together staff members of Vietnam's representative agencies and Vietnamese people.

Vietnamese Ambassador to RoK Nguyen Vu Tu took the occasion to brief the Vietnamese expats on the socio-economic situation in Vietnam in the past year, highlighting a GDP growth of 7.02 percent and foreign trade hitting 500 billion USD for the first time. The inflow of foreign investment into the country topped 38.02 billion USD, up 7.2 percent from 2018.

He noted that RoK continued to be the top foreign investor, the second largest provider of official development assistance and second biggest trade partner of Vietnam in 2019.

He praised organisations of Vietnamese people in the RoK, such as the Vietnamese Association, the Vietnamese Students' Association and the Vietnamese Business Association, for working closely with the Embassy of Vietnam in holding sport and cultural events to promote the home country in the RoK.

At present, there are more than 190,000 Vietnamese living in the RoK.

Similar celebrations were also held in Hong Kong, Indonesia, Argentina and the Czech Republic on January 11 and 12.


Source: VNA