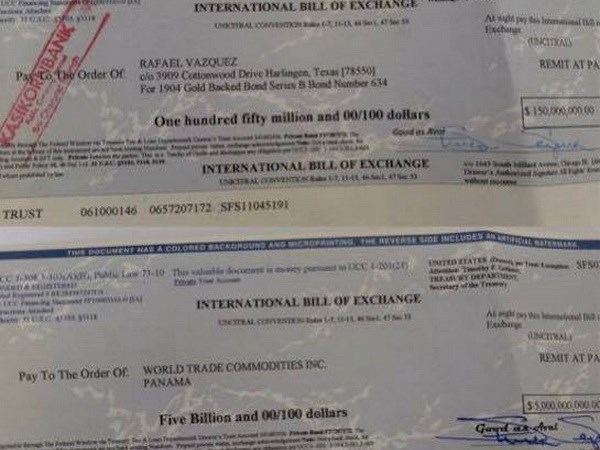 The bills of exchange brought to Vietnam by Rafael Vazquez Flores (Source: VNA)
The Can Tho Police said on April 11 that they are carrying out procedures through the diplomatic channel to hand over dossiers relating to Rafael Vazquez Flores, an American of Mexican origin, to the US Federal Bureau of Investigation (FBI) at the request of the agency.

According to the municipal police, in 2016, many people in the Mekong Delta city of Can Tho and the southern province of Dong Nai denounced that Do Huu Le Hung, a 57-year-old man of Australia national, colluded with Rafael to swindle 3 billion VND (132,000 USD).

Investigations reveal that Hung introduced Rafael to the victims as a billionaire who is chairman of World Trade Commodities Inc Panama with assets valued at 130 billion USD, and wants to invest in Vietnam.

Hung then asked the victims to spend over 3 billion VND to invite Rafael to visit Vietnam to assess projects in which they intend to invest.

The municipal Police uncovered that Hung has been hunted by the Criminal Police Department since 2002 for swindling to appropriate over 900 million VND (39.600 USD) at Incomex Company.

He was arrested by the Can Tho Police on January 19, 2017 in accordance with the wanted notice.

At Hung's residence, the police also collected many relevant documents along with two bills of exchange worth 5.1 billion USD (suspected to be fake) that Rafael brought to Vietnam.

Hung was handed over to the Investigation Police Department under the Ministry of Public Security on January 23, 2017 in line with the wanted notice.

However, the agency decided to suspend the investigation on July 24, 2017 as his deeds cause no harms to the society on the basis of Clause 1, Article 25 of the previous Criminal Code.

During the period when Hung was detained in Can Tho, the municipal police banned Rafael from leaving Vietnam to verify the exchange bills, which, Rafael said, were issued by the US Department of Treasury to invest in welfare projects in Vietnam. Rafael added that he chose Hung as a representative of World Trade Commodities Inc Panama in Asia.

However, the municipal police cancelled the ban due to verifying the exchange bills took time.

Responding to the Vietnamese side's verification request, the FBI identified that Rafael whose address is in Texas recorded convictions. Besides, there is no information about World Trade Communities Inc Panama in Texas' archives, and no competent US agencies issuing the exchange bills.
Source: VNA