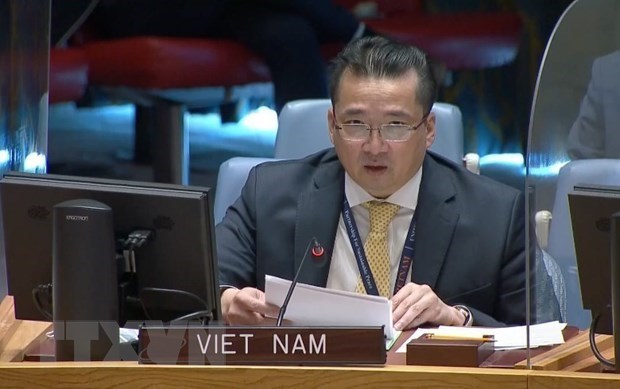 Ambassador Pham Hai Anh, Chargé d'Affaires a.i. of Vietnam to the United Nations. (Photo: VNA)
Ambassador Pham Hai Anh, Chargé d'Affaires a.i. of Vietnam to the United Nations (UN), has affirmed Vietnam's backing for efforts to boost effective cooperation between the UN Security Council (UNSC) and the African Union Peace and Security Council (AUPSC), with the focus placed on addressing such issues as terrorism, climate change, bombs and mines, and women, peace and security.

Addressing an annual joint meeting between the UNSC and AUPSC on December 16, Anh emphasised the need to promote their participation in and cooperation with sub-regional organisations in Africa in relevant issues during UNSC discussions and field trips.

He also appreciated the roles and contributions of African countries as members of the UNSC and supported their continued leading roles in promoting collaboration between the UNSC and AUPSC.

Ambassador Bankole Adeoye, African Union Commissioner for Political Affairs, Peace and Security, spoke highly of the UNSC's contributions to promoting peace, security and development in Africa, affirming that the AUPSC will actively maintain cooperation with the Council.

He stressed the importance of maintaining and promoting cooperation between the two sides, especially in responding to security challenges in Africa such as conflicts, terrorism and extreme violence, climate change, diseases and human trafficking.

The annual meeting focused discussions on strengthening cooperation between the UNSC and AUPSC by improving the working method and promoting predictable and sustainable financing for AU-led peacekeeping operations.

The two agencies plan to hold a consultation on issues of mutual concern and issue a joint communique on December 17./.
VNA