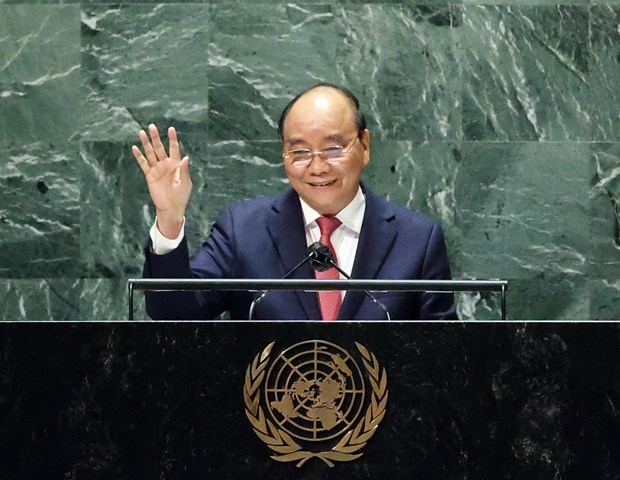 President Nguyen Xuan Phuc at the High-level General Debate of the 76th session of the United Nations General Assembly. (Photo: VNA)
Canada-based Geopolitical Monitor website on September 27 ran an article analyzing President Nguyen Xuan Phuc's speech at the recent High-level General Debate at the 76th session of the United Nations General Assembly (UNGA 76) and highlighting Vietnam's heightening reputation as a UNSC member and its socio-economic achievements over decades.

The UN's urgent pandemic messaging was underscored by all nations, especially by Vietnam's President Nguyen Xuan Phuc, who pointed out that this global health storm has created obstacles for development, affecting the economic, political, and social life of the world, especially in small and developing countries.

"For the pandemic to be repelled, it is essential that we stand in solidarity, uphold a high sense of responsibility, and step up cooperation," it quoted the Vietnamese President as saying.

It went on to say that despite a resurgence of COVID-19, Vietnam's image was boosted in its role as a non-permanent member of the UN Security Council (UNSC) and rotating UNSC presidency, twice during 2020 – 2021. The country is also highly regarded for its ability to steer signature events and peace-building efforts, it noted.

The publication held that Vietnam's ascendancy in international security has been broadly witnessed in its role in hosting the 2017 Asia Pacific Economic Cooperation (APEC) summit, the 2019 Hanoi Summit, in a meeting bringing together Democratic People's Republic of Korean leader Kim Jong-un and US President Donald Trump.

"Although the summit failed to bridge any resolution on the disarmament of a global nuclear threat, Hanoi emerged as a recognized peace-builder in what is generally regarded as a niche position in reconciliation or mediation diplomacy," it claimed.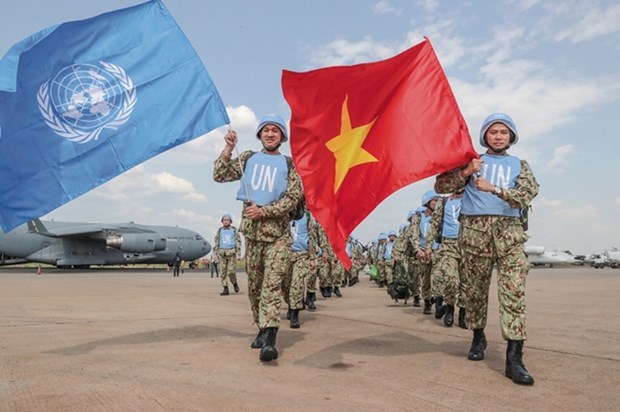 Vietnam sends officers to join the UN peacekeeping mission. (Photo: VNA)
Vietnam's repositioning as a middle power and evolving role as a peace builder demonstrates the nation's growing confidence to play a key mediation role in the Association of Southeast Asian Nations (ASEAN) on regional security issues.

Over the past three decades, Hanoi has garnered recognition as a responsible member of the international community, according to Geopolitical Monitor. The nation has successfully adopted the correct market institutions that have led to more than two decades of impressive economic performance.

UN member nations have applauded Vietnam's vaulted role in the promotion of the struggles for national independence, sovereignty, and self-determination. Vietnam's remarkable journey from low to middle-income status lifted over 40 million people out of poverty between 1993-2014, the article said, adding that despite spending a half-century at war, Hanoi has lost no time in supporting UN initiatives that highlight the fundamental principles of international laws and the Charter in addressing international conflicts through peaceful means.

A central part of its openness and engagement with the world has been the country's willingness to acquire a more prominent voice and position in the United Nations. This has been most evident in its successful efforts to join UN Peacekeeping Operations in early 2014, and Vietnam has its national flag proudly displayed at UN Peacekeeping Missions in South Sudan and the Central African Republic, the article noted.

Additionally, the country recognizes the urgency in supporting the 2030 Agenda for Sustainable Development, the UN Framework Convention on Climate Change (UNFCCC), and the Paris Agreement (COP21). "Cooperation in mitigating and preventing the dire impacts of climate change has become more crucial than ever before," added Phuc in his speech.

The article said Vietnam is pledging to stake its own future to making proactive and responsible contributions to meet the UN peacekeeping charter, to uphold international law, and to achieve sustainable development goals. According to the President, "the pre-requisite to fostering recovery and growth in the post-pandemic era is to sustain peace, security, and stability in each country, each region, and the world at large."/.
VNA