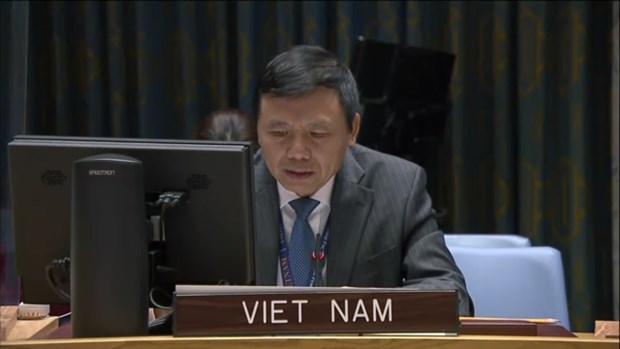 Ambassador Dang Dinh Quy, head of the Vietnam Mission to the United Nations. (Photo: VNA)
Ambassador Dang Dinh Quy, head of the Vietnam Mission to the United Nations (UN), on June 8 affirmed Vietnam's commitment to promoting the role of the UN Charter and international law in maintaining international peace and security.

Addressing the UN Security Council meeting on the International Residual Mechanism for Criminal Tribunals (IRMCT) operations, Quy acknowledged the Mechanism's efforts in implementing measures to realize the council's Resolution 2529 on reviewing the two-year operation of the Mechanism, and supported the completion of the trials on time.

He affirmed that countries bear the top responsibility for prosecuting and trying serious international crimes, and called for support for countries in exercising their judicial jurisdiction.

IRMCT Judge Carmel Agius said that in the past six months, the Mechanism has made positive progress in adjudication such as issuing a final judgment on June 8, 2021 and two other judgments in June, and beginning a trial against Felicien Kabuga, one of the key suspects in the 1994 Rwandan genocide, who was arrested in France and handed over to the Mechanism last year.

The Mechanism's Prosecutor Serge Brammertz affirmed his commitment to hunting Rwanda genocide suspects who remain in hiding, as well as assisting national judicial authorities in prosecuting serious crimes.

Participants expressed their support for the Mechanism's role in upholding justice, prosecuting those believed to have committed serious crimes, and calling on the countries concerned to cooperate with and support the Mechanism.

Some suggested the Mechanism ensure the highest judicial standards, report on the health protection situation for detainees and specifically mention a number of sentences issued.

The IRMCT was established in 2010 to carry out the remaining essential functions of the International Criminal Tribunal for Rwanda (ICTR) and the International Criminal Tribunal for the former Yugoslavia (ICTY) after their respective closures. In June 2020, under the coordination of Vietnam, the UN Security Council approved Resolution 2529. Vietnam's cooperation with member countries of the UN and its Security Council related to the Mechanism's works has been highly appreciated by many countries, demonstrating its objectivity and professionalism./.
VNA