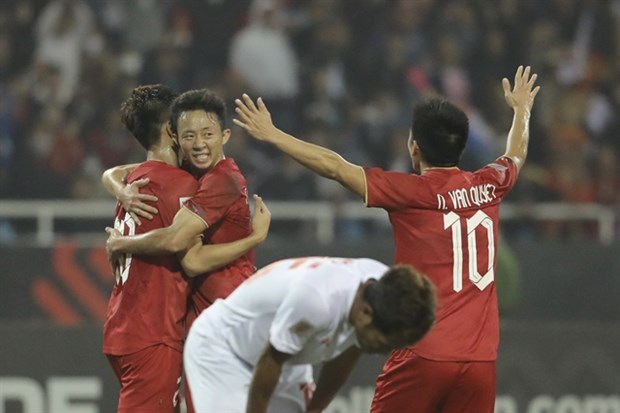 Vietnamese players celebrate their goal in the 3-0 win over Myanmar at the AFF Cup on January 3 in Hanoi. (Photo: VNA)
During coach Park Hang-seo's five-year reign, Vietnam have not lost to Indonesia and the Korean coach will not want that streak to end so close to the end of his tenure when they meet in the AFF Cup semi-finals on January 6.

Vietnam defeated Myanmar 3-0 in their last group round match to top Group B with 10 points, with three wins and one draw. They will play Indonesia over two legs in the semi-finals, with the first match at the Gelora Bung Karno Stadium in Jakarta.

Speaking at the post-match conference, Park thanked his players for their efforts and said he was pleased with the Vietnamese players' showing against Myanmar.

|"Only the third match against Singapore was unexpected with a goalless draw. It was partly because of the artificial grass that affected our performance. In the rest, they have done a good job. In addition, Vietnam are the only team to keep a clean sheet in this tournament," said Park.

Speaking about Indonesia, the coach said they had changed a lot since the last meeting with Vietnam two years ago. They have some new naturalised players who are fit and have good tactical prowess.

"As the 2020 Cup runners-up, Indonesia are tough and are at home ground. I hope Vietnam will have a positive result. Since I have been in charge of Vietnam, I have not lost to them yet, and I will try my best to maintain the record," he said.

Under Park, Vietnam played Indonesia, managed by Shin Tae-yong, three times. They won twice at the 2022 World Cup qualification round and drew once at the AFF Cup in 2020.

Myanmar coach Antoine Hey regretted that his players could not convert their opportunities into goals, but he congratulated Vietnam on the win.

He said Myanmar tried to play an expansive game in the first half, but the early mistake that led to the goal worked against them. The team tried to adjust but another error led to the second goal. By the third, the game was over.

Hey thought that it was not the best performance of Vietnam, although the hosts secured a 3-0 win. He believes Park and his side must improve in the semi-finals.

Park and his team flew to HCM City at night. They departed for Jakarta on January 4 morning after receiving a bonus of 2 billion VND (84,900 USD) from the Vietnam Football Federation. They will have two days to train before playing Indonesia. In their nine meetings at the AFF Cup, Vietnam have won one, drew five and lost three times to Indonesia./.
VNA