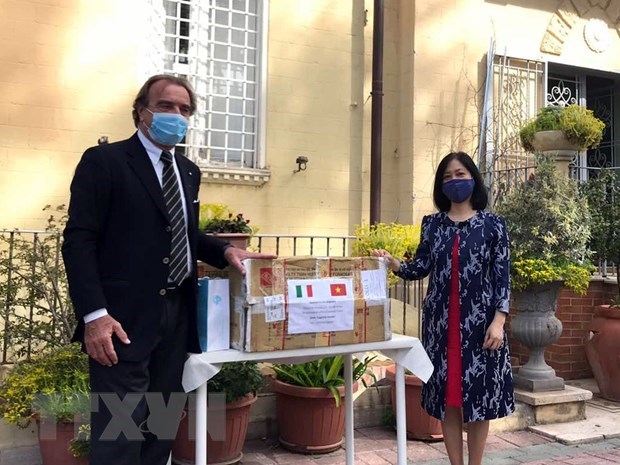 Vietnamese Ambassador to Italy Nguyen Thi Bich Hue (R) hands over medical face masks to a representative of the Italian side (Photo: VNA)
Many organisations, businesses and individuals in Vietnam have donated medical supplies to help Italy in the fight against COVID-19, showing the Southeast Asian nation's solidarity, sharing and responsible international cooperation, said Vietnamese Ambassador to Italy Nguyen Thi Bich Hue.

According to the diplomat, the embassy has actively participated in mobilising medical supplies to support the host country in its efforts to contain the disease.

On April 17, more than 100,000 face masks gifted by the Vietnamese Government, along with 23,000 face masks, 500 protective suits and other medical supplies donated by businesses and individuals in Vietnam, were handed over to Italy, one of the European countries hardest hit by the novel coronavirus (SARS-CoV-2).

Previously, the Uni-Italia Association in Vietnam and the Vietnam - Italy Friendship Association also presented 8,500 face masks to the Italian side.

Hue said these valuable medical supplies have been delivered directly to overseas Vietnamese people and students living, studying and working across the European nation; local civil protection agencies in the epidemic-hit centres; and hospitals, nursing homes, police departments in Rome, and other regions.

According to the diplomat, Government and State leaders of Italy, local governments, the Vietnamese community and international friends in the host country all expressed their appreciation of Vietnam's valuable assistance to Italy in the most difficult days in the country's history since the World War II.

Italian Prime Minister Giuseppe Conte and Foreign Minister Luigi Di Maio expressed their thanks to Prime Minister Nguyen Xuan Phuc, the Government and people of Vietnam for joining hands with Italy in the fight against Covid-19.

The Italian Ministry of Foreign Affairs emphasised that this support affirmed the practical significance of the Vietnam - Italy strategic partnership, adding that Vietnam's assistance will help Italy come to recovery soon.

Italy currently records the third highest number of COVID-19 cases in the world, after the US and Spain, with 218,268 infections and 30,395 deaths as of May 9./.

VNA