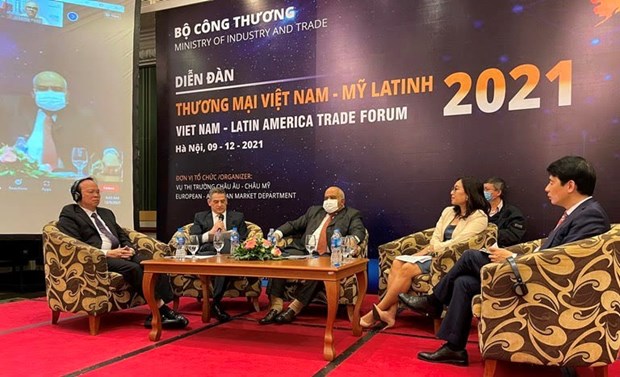 At the event (Photo: VNA)
Vietnam hopes to further increase trade and investment with Latin American countries, with a focus on energy, telecommunications, hi-tech agriculture, and industries with high added value, an official has said.

Deputy Minister of Industry and Trade Do Thang Hai made the remark at the Vietnam - Latin America trade forum held both in person and via videoconference on December 9.

He noted bilateral economic and trade relations have continually thriving in recent years. As a dynamic economy, Latin America is becoming an attractive market for the whole world, including Vietnam, while the Southeast Asian nation is also grasping attention of worldwide businesses, including those from Latin America.

Vietnam currently has trade ties with all the 33 Latin American countries. Bilateral trade rose by over 63-fold from 245 million USD in 2000 to 15.6 billion USD in 2020, including 8.3 billion USD in Vietnam's exports.

Meanwhile, Vietnam has had several investment projects worth hundreds of millions of USD in this region. Twenty-seven countries and territories from Latin America have invested in 297 projects in Vietnam, registering total capital of some 9.3 billion USD.

Hai noted Vietnam has signed agreements with several regional countries, especially the free trade deal with Chile that was inked in November 2011 and took effect in 2014, and the Comprehensive and Progressive Agreement for Trans-Pacific Partnership (CPTPP), which includes the three Latin American countries of Mexico, Chile, and Peru.

Those agreements are considered important turning points creating new momentum for Vietnam's trade and investment links with Latin American countries, he said, adding that the governments of Vietnam and Brazil, Argentina, Uruguay, and Paraguay, which are members of the Southern Common Market (Mercosur), are also considering a preferential trade deal so as to facilitate their goods' entry into each other's markets.

Vietnam looks to raise bilateral trade with Latin American countries to about 20 billion USD by 2025 and attracts 12 - 13 billion USD in investment from the region, according to the deputy minister.

Tatiana Clouthier, Secretary of Economy of Mexico which is holding the rotational chairmanship of the Community of Latin American and Caribbean States (CELAC), said the CPTPP has created a favourable framework for the two countries' trade cooperation.

Mexico is interested in connecting production centres so that the two sides form part of the global value chains in North America and Southeast Asia, she said, encouraging Vietnamese suppliers to take part in her country's value chains.

Ta Hoang Linh, Director of the Europe - American Market Department under the Ministry of Industry and Trade, said the Vietnamese Government, the ministry, and the country's trade offices in Latin American countries will make efforts to provide Vietnamese localities and businesses with market information, connect them with foreign partners, and help them address difficulties in accessing and operating in the Latin American region./.
VNA