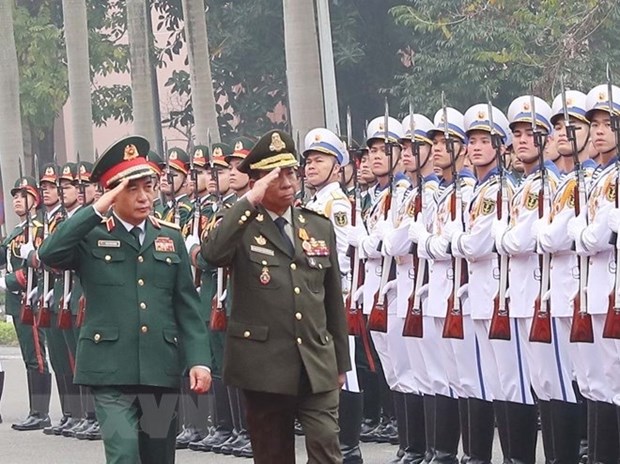 Vietnamese Defence Minister Gen. Phan Van Giang (L) and Cambodian Deputy PM and Defence Minister Gen. Tea Banh review the guard of honour at the welcome ceremony for the latter in Hanoi on February 19. (Photo: VNA)

Minister of National Defence Gen. Phan Van Giang and visiting Cambodian Deputy Prime Minister and Minister of National Defence, Gen. Tea Banh, reviewed their ministries' cooperation in 2022 and agreed on a cooperation plan for this year during talks in Hanoi on February 19.

Addressing the talks, which were held following an official welcome ceremony for the Cambodia official, Minister Giang expressed his belief that Gen. Tea Banh's official visit to Vietnam will be successful and create a new impetus for the two countries' friendship, including between the two defence ministries and militaries.

The Cambodian official held that cooperation between the two militaries has continued to be enhanced and reaped fruitful results despite the complex COVID-19 pandemic. The two sides have shown their determination to help strengthen the Cambodia - Vietnam ties through promoting extensive partnerships and effectively implementing their annual cooperation plans.

Both host and guest shared the view that 2022, designated as the "Vietnam - Cambodia and Cambodia - Vietnam Friendship Year", held special significance to the countries' relations. Nearly 30 symbolic activities were organised by the two defence ministries last year, including the first border defence friendship exchange in May; the ceremony marking 45 years since the start of Cambodian Prime Minister Hun Sen's journey to topple the genocidal Pol Pot regime in June; the third annual meeting of the defence ministers of Vietnam, Laos, and Cambodia, and the first joint rescue exercise among the three militaries in September.

Agencies and units of both sides have also maintained information sharing, safeguarded security and order along the land border and at sea, and fruitfully carried out the 2022 cooperation plan.

Agreeing on the defence cooperation plan for 2023, the two ministers laid emphasis on some focuses, including increasing information sharing and conducting joint patrols to maintain security and order on land and at sea; coordinating closely with each other to build a long-term communication plan to popularise the solidarity and mutual assistance between the countries' Governments, peoples, and militaries, especially on the occasion of big anniversaries such as the 70th founding anniversary of the Royal Cambodian Armed Forces in 2023 and the 80th anniversary of the Vietnam People's Army in 2024; working together to effectively implement cooperation activities related to Cambodia's hosting of the 32nd Southeast Asian Games (SEA Games) and the 12th ASEAN Para Games; and continuing joint efforts to search for and repatriate remains of Vietnam's volunteer soldiers and experts who died during wartime in Cambodia.

Concluding the talks, the ministers inked the 2023 cooperation plan and witnessed the signing of the two defence ministries' memorandum of understanding on cooperation in military and defence law./.
VNA