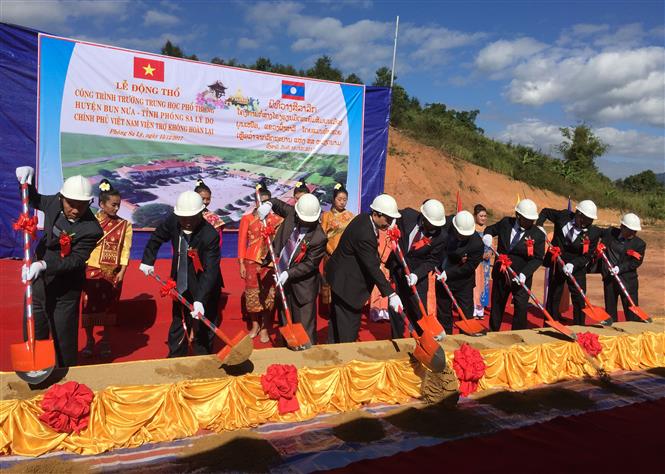 At the groundbreaking ceremony (Photo VNA)
A groundbreaking ceremony was held in Bounneua district in Laos' northern province of Phongsaly on December 15 for the construction of a high school with funding from the Vietnamese Government.

The project is worth 120 billion VND (5.28 million USD) in celebration of the 55th anniversary of Vietnam-Laos diplomatic ties and 40 years of the signing of the Vietnam-Laos Treaty of Amity and Cooperation.

It is expected to be put into operation in December 2018, featuring 40 classrooms along with a library, a sports ground, a catering outlet, and a dormitory.

Speaking at the event, Vietnam's Minister of Planning and Investment Nguyen Chi Dung highlighted the special relations between Vietnam and Laos which have been reinforced and deepened across the board, particularly human resources training and development.

He noted that more than 14,000 Lao officials and students are pursuing education in Vietnam, 30 percent of whom received scholarships provided by the Vietnamese Government.

Tens of schools at different educational levels have been built in Lao localities by the Vietnamese Government and businesses.

The construction of the school in Bouneua demonstrates the attention of the two countries' leaders to training young generations in Phongsaly province as well as creates a milestone in the cooperative relations between Phongsaly and bordering Dien Bien province, he said.

He asked investors of Dien Bien and Phongsaly to ensure the best infrastructure for learning and teaching in the long run.

The school will become a symbol of the close-knit brotherhood between Vietnam and Laos, he said.

Lao Minister of Planning and Investment Souphan Keomixay said the project holds significant meaning to Phongsaly, one of the poorest provinces in Laos, as it will serve 1,800 children.

On behalf of the Lao Party, Government and people, the Lao minister thanked the Vietnamese counterparts for their valuable assistance over the past decades, especially in assisting Lao disadvantaged localities.
Source: VNA