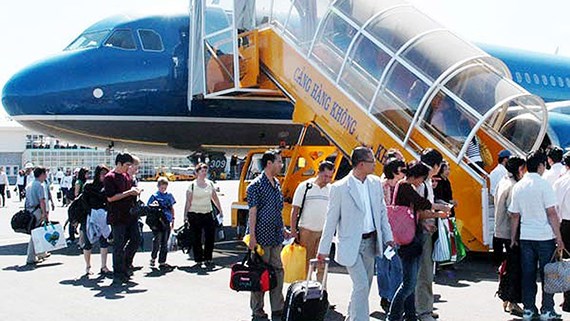 Vietnam Airlines will increase domestic flights during upcoming holidays. (Source: http://www.sggp.org.vn)
The national flag carrier Vietnam Airlines announced on April 11 that it would increase domestic flights to meet the high travel demand of passengers during the Reunification Day (April 30) and May Day (May 1).

Accordingly, the firm will add nearly 300 flights or nearly 60,000 seats on 12 domestic air routes, especially key ones such as Hanoi/Ho Chi Minh City-Da Nang; Hanoi/Ho Chi Minh City – Phu Quoc; Hanoi – Nha Trang.

Vietnam Airlines said it plans to supply 480,000 seats during this time, 14 percent higher than usual and up 4.5 percent over the same period last year.

The firm recommended passengers to early book flight tickets, and use online check-in services to reduce time for waiting in the airport before departure.

Low cost carrier Vietjet Air recently also said it plans to increase 200 flights, with 46,000 seats, to domestic popular tourism destinations such as Phu Quoc, Nha Trang, Da Nang, and Da Lat, and international destinations, including the Republic of Korea, Taiwan (China) and Thailand.

Jetstar Pacific will also add 20 flights per day to serve the growing demand, an increase of 20 percent from the same period last year.

The two carriers said they have ensured sufficient ground services and flight crews for the holidays.
Source: VNA