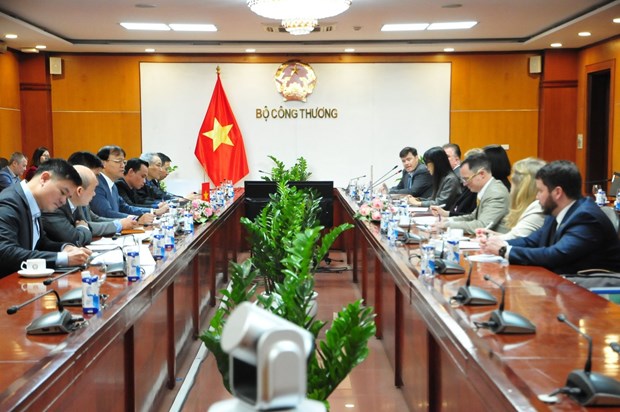 The meetings between officials of the Vietnamese Ministry of Industry and Trade and the US Department of Agriculture in Hanoi on February 27 (Source: Ministry of Industry and Trade)

Deputy Minister of Industry and Trade Do Thang Hai has called on the US Department of Agriculture (USDA) to promote the approval process for irradiation facilities so as to facilitate the export of Vietnam's fresh fruits to the US.

He made the request at a meeting with a USDA delegation led by Jennifer Lester Moffitt, Under Secretary of Agriculture for Marketing and Regulatory Programmes, and Alexis Taylor, Under Secretary for Trade and Foreign Agricultural Affairs, in Hanoi on February 27.

Emphasising the US as one of the leading partners, Hai said Vietnam hopes both sides will maintain the stable development of bilateral economic and trade ties and continue promoting their comprehensive partnership in a substantive manner.

He applauded recent efforts by both countries to realise the commitments in the action plan towards harmonious and sustainable trade balance, step up market opening, and resolve problems in bilateral economic and trade relations on the basis of objectivity and equality.

The Deputy Minister asked the USDA to accelerate the approval process for irradiation facilities to boost the export of Vietnam's fresh fruits, frequently share information, and coordinate to create favourable conditions for Vietnamese businesses to take part in activities promoting the trading of farm produce, especially fresh fruits and canned agricultural products, in the US.

In particular, the two sides should increase sharing experience in building and enforcing law related to illegal, unreported, and unregulated (IUU) fishing, he went on.

Talking about Vietnam's orientations for bio-fuel use in the coming time, Hai also suggested stronger cooperation in the ethanol industry and the promotion of sustainable energy transition in Vietnam.

Agreeing with the Vietnamese ministry's views, the USDA officials said both sides should continue boosting the discussion on the market opening for the fruits mentioned by the US and the creation of optimal conditions for some plant and nut-based products and animal feed to be imported into Vietnam.

They also voiced their hope for enhanced partnerships in the field of bio-fuel and ethanol with Vietnam./.
VNA