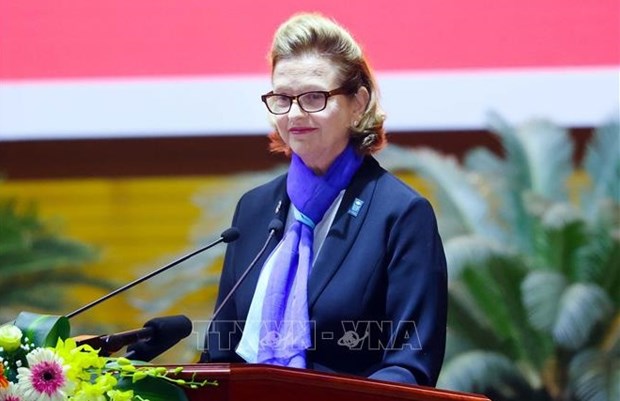 Caitlin Wiesen, UNDP Resident Representative in Vietnam (Photo: VNA)
Caitlin Wiesen, Resident Representative of the UN Development Programme (UNDP) in Vietnam, has applauded the Government's efforts to make a mid-term report on the implementation of the Universal Periodic Review (UPR) third cycle recommendations.

She commended the government of Vietnam for their efforts to track the implementation of its UPR commitments under the third cycle review and reporting process.

"The fact that Vietnam has decided to develop a UPR mid-term report, which is voluntary, shows the country's strong commitment and determination to follow the recommendations it received and accepted during the third cycle review," she said. "This commitment is particularly important as Vietnam presents itself as a candidate for UN Human Rights Council membership."

According to Wiesen, among many benefits that the UPR mid-term reporting mechanism can bring is the opportunity for the country to look back and reflect on the progress that has been made – what has worked, as well as on where further progress is needed.

Vietnam has seen advances in economic, social and cultural rights, reflected by improvements in the Multidimensional Poverty Index. Advances have also been observed in governance and the rule of law, but more work is required to ensure equal access to justice and inclusive participation of the most vulnerable, including, ethnic minorities and people with disabilities, among others – all topics featured in third cycle UPR recommendations.

By examining the level of implementation of recommendations across all areas, the country will be in a strong position to share its successes and support other States facing similar challenges, as it stands before its peers in the fourth UPR cycle in 2024, the UNDP official said.

She held that the COVID-19 pandemic has presented unique challenges for the protection of human rights around the world, including in Vietnam, but it should not put a pause in UPR implementation.

On the contrary, tackling the virus and improving human rights is in line with accepted UPR recommendations and should move together hand-in-hand. Responses to the pandemic that respect human rights and dignity will result in better, more inclusive outcomes in battling COVID-19. It will also help to ensure healthcare for everyone while spurring inclusive, sustainable development, Wiesen added.

Since the UPR mechanism was set up in 2008, Vietnam has participated in three UPR cycles - in 2009, 2014, and 2019. It is working to implement the recommendations it accepted during the third cycle review.

Since each UPR cycle lasts for about five years, to make timely updates on their recommendation implementation and demonstrate their sense of responsibility towards the UPR mechanism and the human rights promotion, some countries submit mid-term reports to the HRC, which is a voluntary practice highly valued by the international community./.
VNA