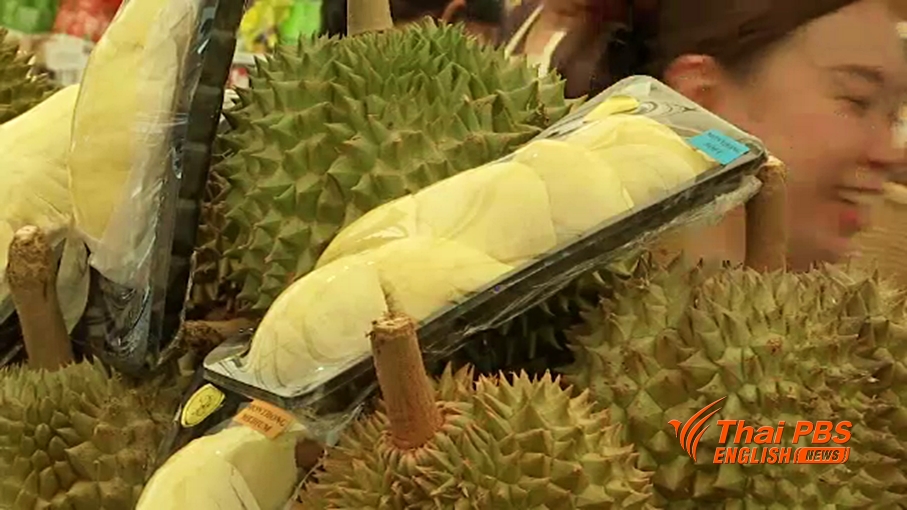 Monthong durian (Source: Thai PBS)
Thailand's Department of Intellectual Property (DIP) has officially protested China over a Chinese company's request to register trademarks in English and Chinese meaning "Monthong", the popular durian species in the Southeast Asian country.

DIP Director-General Thosapone Dansuputra said the protest note was sent to the China Trademark Office on March 26 to voice Thailand's concern over report of its recent registration of "Jin Zhentou" in Chinese (gold pillow) which translated into Thai as "Monthong", the name of the most expensive and popular durian species of Thailand.
Thosapone said "Monthong" is known worldwide as Thai durian and it cannot be registered as a trademark in China.
Thai authorities have been checking details of the registration of the trademark by the Chinese business operators to see if they would withdraw their application for registration, or the registration has been officially permitted, he said, adding that in such case, Thailand would ask the Chinese trademark officials to revoke the permit.
The move was aimed at protecting Thai fruit exports after Chinese companies have used the trademark in their products.
With the Chinese registration, Thai traders and exporters wanting to use the word "Monthong" in Chinese to promote their durian products, including dried durian chips, in their packaging to China could face lawsuits.
Source: VNA