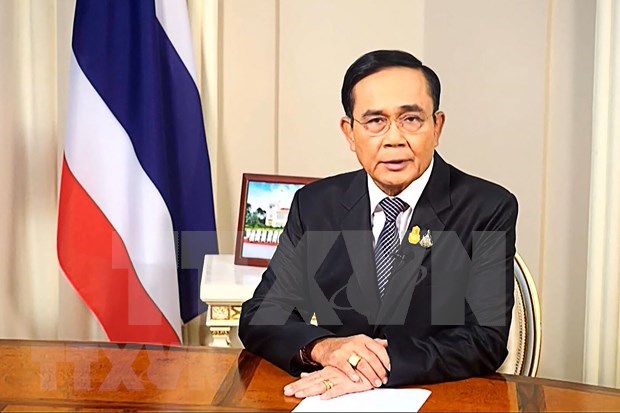 Prime Minister of Thailand Prayut Chan-o-cha (Source: AFP/VNA)
Thailand on November 12 took over the rotating chairmanship of the Asia-Pacific Economic Cooperation (APEC) forum from New Zealand, with Prime Minister Prayut Chan-o-cha declaring the theme for the APEC Year 2022 as "Open. Connect. Balance." at a virtual ceremony.

The Thai PM said that Thailand was honored to host the APEC meetings next year, and would continue to work and collaborate with the APEC economies for common development.

He called on APEC economies to synergize strength and determination in realising the goal of creating an open, dynamic, resilient and peaceful APEC community for future generations.

He explained the theme of "Open. Connect. Balance," hoping for APEC to be "opened" to all opportunities, "connected" in every dimension, and "balanced" in all aspects.

During APEC Year 2022, Thailand will host about 100 meetings focusing on inclusive and sustainable growth, promoting a balance between the economy and the environment and facilitating trade and investment. The 29th APEC Economic Leaders' Meeting is slated to be held in Thailand in November 2022. The country is promoting the concept of Bio, Circular, and Green Economy, known as the BCG Economy Model, as the driving force behind APEC's priorities next year./.
VNA