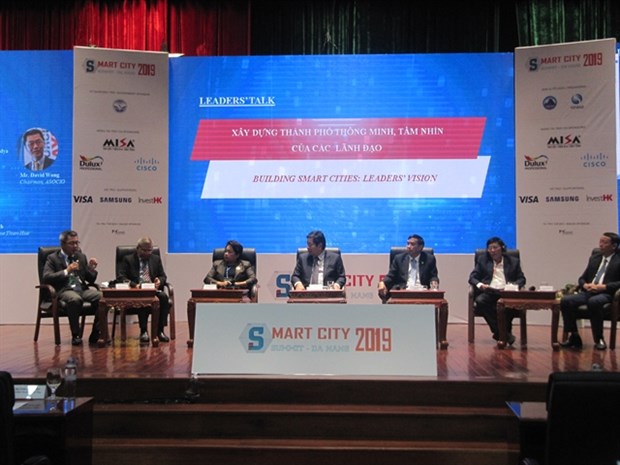 A talk is held at the Smart City Summit Da Nang 2019. Smart city solutions will be a choice for Vietnam to boost its digital economy development in the next decade. (Photo: VNA)
Smart city building is a crucial solution to boost economic growth and prosperity in Vietnam, while investing in 'smart city' projects is the best way for Vietnam to digitalise, an expert has said.

Chairman of the Vietnam Software and Information Technology Services Association (VINASA) Truong Gia Binh made the statement at the opening ceremony of the Smart City Summit in Da Nang city on October 23, stressing smart city development is crucial.

"It's a must and very urgent. We have a good choice for catching the world of rapid digitalisation. The government should offer smooth conditions for businesses investing in big data, digital platforms and infrastructure as well as speeding up digital economy transformation in the next decade," Binh said.

Binh also emphasised that people, businesses and local governments must be involved in building smart cities, and serving the people has to be a focus of the smart city.

He said local people have the right to ask their local government for social security, fresh water, clean air, smooth traffic, safe food, convenient health care and transparency, and smart cities will be a sustainable and cost-saving choice for Vietnam.

Nguyen Mung, solution manager of Phi Long Technology company, said it started building a smart traffic solution in Da Nang from 2017.

He said the system, which monitors 3,000 traffic cameras, has been operating at the city's congested sites as well as tracking traffic violations.

Mung said face identification systems have been developing at shopping and trading centres, hotels and restaurants in seven provinces and cities in Vietnam.

Also on the occasion, the Ministry of Information and Communication and VINASA presented certificates to the top 50 leading IT businesses in Vietnam, and the top 10 businesses with capacity for the 4th Industrial Revolution.

In March, Da Nang won an ASOCIO Smart City Award for its outstanding initiatives of a smart city during the ASOCIO Smart City Summit in Bangkok, Thailand, and it is planning to become the first city in Vietnam to join the ASEAN smart city network by 2030.

Source: VNA