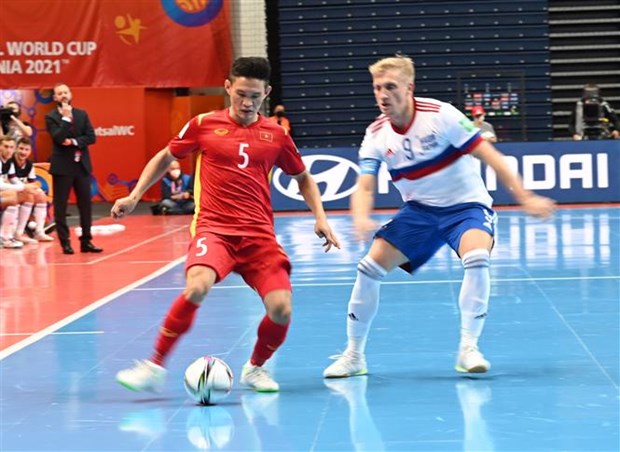 Futsal players of Vietnam and Russia vie for the ball (Photo: VNA)
Russian newspaper Championat has praised Vietnam's solid defence and indomitability when playing Russian players at the knockout round of the 2021 FIFA Futsal World Cup in Lithuania.

Vietnam lost 2-3 to Russia in a match on September 22, a clear improvement from the 0-7 loss to the same rivals in the Round of 16 at the 2016 World Cup in Colombia.

Author Mikhail Chesalin stated that the stability in defence of the Asian team caused troubles to Russia until the match's end.

He went on to say that it was not an easy task for Russian players to score as their Vietnamese rivals had speed and flexibility, coupled with a strong defence.

He underlined that Pham Duc Hoa's goal for Vietnam had made Russian fans worried.

In addition, on its homepage, the International Federation of Association Football (FIFA) used the title "Heads held high" to write about Vietnam's performance in the match.

Russian midfielder Ivan Milovanov also spoke highly of Vietnamese players after the game, saying that they had fought until the last seconds./.
VNA