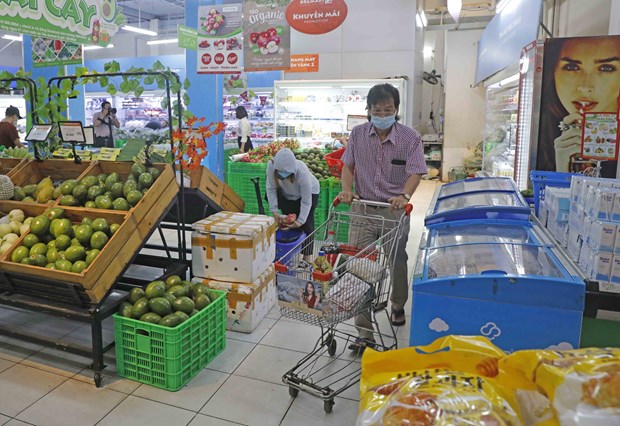 Customers go shopping at BRG Food Supermarket. (Photo: VNA)
The total retail sales of consumer goods and services in September increased 65.5 percent against August as production, business and service activities resumed in some localities after the COVID-19 is put under control.

According to the Ministry of Industry and Trade (MoIT), due to the COVID-19 pandemic, the country's total retail sales and services revenue in the first nine months of this year hit 3.336 quadrillion VND (148 billion USD) and 7.1 percent year-on-year decrease.

Retail sales of goods in the period was estimated at 2.779 quadrillion VND, accounting for 82.54 percent of total retails sales of goods and services and a decline of 3.38 percent compared with last year's figure.

Revenue from accommodation and catering services reached 279.4 trillion VND, down 22.14 percent year-on-year. Revenue from tourism and other types of services obtained 4.63 trillion VND and 303.97 trillion VND, fell 64 percent and 19.3 compared with the same period last year.

In the coming months, the Ministry will implement some measures including removing difficulties, quickly resuming production and business activities, especially making use of high demand for goods at the year-end to offset standstill over the past months.

The Ministry will use opportunities from free trade agreements and remove obstacles to penetrate into new markets. Online trade promotion and business matching activities will be strengthened to push up the consumption of goods, it said./.
VNA