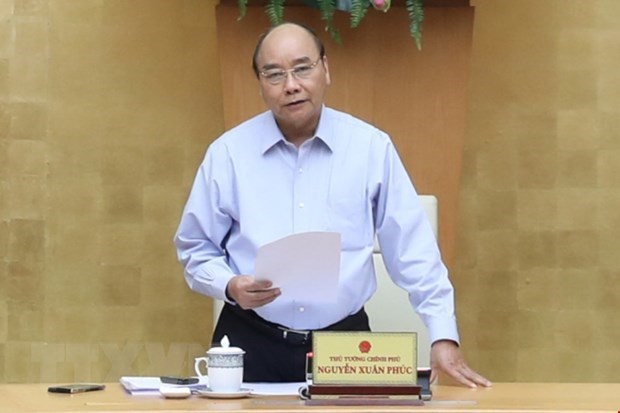 PM Nguyen Xuan Phuc speaks at the meeting. (Photo: VNA)
Prime Minister Nguyen Xuan Phuc on April 28 asked localities to resume social activities and re-start economic sectors with high safety level while strictly following epidemic prevention plans.
Speaking at a Cabinet meeting on COVID-19 prevention and control, the PM assigned chair people of People's Committees of provinces and cities to ease restrictions on a number of business and services sectors to boost business and production.
Local authorities can promote tourism for the National Reunification Day holiday on April 30 but the gathering of large number of people should continue to be banned, he said, stressing that people must still wear face masks outdoor.

The PM also asked localities to take measures to ensure students are safe when they return to school.

He also asked that sectors severely affected by the pandemic such as tourism, services, and aviation be given assistance.
The Government leader urged localities to address negative phenomena and corruption in medical equipment purchasing, saying that such acts must be taken to investigation agencies.

PM Phuc said that with 270 cases in a population of 100 million people, Vietnam counts among the countries with the lowest infection rate in the world.

He applauded agencies and localities, especially Hanoi and HCM City, for their observance of instructions, saying that this is a success for the Party, the State, and the people in the fight against the pandemic.

PM Phuc also called for continued vigilance against the epidemic and urged medical workers, especially those on the frontlines, to stay alert.

The Steering Committee and relevant agencies, he went on, need to continue implementing the strategies adopted to combat COVID-19, stressing that pandemic prevention work must continue at full capacity.

The National Steering Committee for COVID-19 Prevention and Control reported to the meeting that Vietnam has now gone 12 straight days with no new COVID-19 cases, with 270 infections as at 11am on April 28, 230 of whom have recovered.

The relapse of five patients, however, reflects the virus's complex transmission mechanism, the Committee said, stressing that preventive measures are still needed to contain its spread. /.

VNA