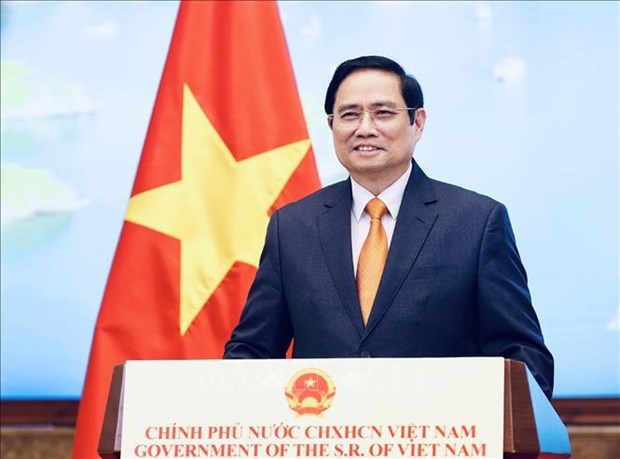 Prime Minister Pham Minh Chinh (Photo: VNA)
Prime Minister Pham Minh Chinh's upcoming official visits to Singapore and Brunei carry the message of joining hands for a cohesive ASEAN and a peaceful, stable, and prosperous Southeast Asia, Deputy Minister of Foreign Affairs Do Hung Viet has affirmed.

In an interview with the press ahead of the PM's trip from February 8-11, Viet stressed that the relations between Vietnam and the two countries are based on a lot of similarities in politics, economy, culture, and people-to-people exchange.

The trip is of great significance, he said, noting that this is the first by Chinh in his new position that aims to manifest the consistent policy of prioritising relations with neighbouring countries and ASEAN, as set at the 13th National Party Congress.

He added that this is also the first official visit by a leader of the Vietnamese Government to Singapore over the past five years, and to Brunei over the past nearly 16 years.

Therefore, the visits are expected to deepen the strategic partnership with Singapore, an important economic partner of Vietnam, and the comprehensive partnership with Brunei, also a promising economic partner, according to the official.

For Singapore, the visit will open up a series of events celebrating the 50th anniversary of the bilateral diplomatic ties, and the 10th anniversary of the strategic partnership, he said.

According to Viet, PM Chinh and high-ranking leaders of Singapore and Brunei are scheduled to discuss and reach agreement on many orientations and measures, including new breakthroughs, to deepen relations across spheres, particularly in the economy, trade, investment, security, national defence, education and training, and science and technology. The visits should contribute to expanding cooperation in new fields like innovation, digital economy, green economy, sustainable development, and clean energy.

Vietnamese ministries, agencies, and localities are also expected to sign important cooperation documents with partners from the two countries on this occasion, notably a governmental-level memorandum of understanding on the establishment of a digital economy and green economy partnership between Vietnam and Singapore, and an action plan implementing the Vietnam-Brunei comprehensive partnership for 2023-2027.

There will also be cooperation activities between ministries, agencies, and localities in education and training, national defence and security, urban infrastructure development, maritime and seaports.

Various trade and investment promotion activities with the participation of leading groups from Singapore, Brunei, and others, Viet said, adding that PM Chinh will chair business forums, and meet representatives from many big groups and businesses, including meetings with investment funds, banks and financial groups of Singapore and other countries, and major energy firms of Brunei.

The Deputy FM expressed his belief that the visits will be a success, contributing to pushing the Vietnam-Singapore strategic partnership and the Vietnam-Brunei comprehensive partnership, helping to strengthen the solidarity within ASEAN, and for peace, stability, cooperation, and the development in the region and the world./.
VNA