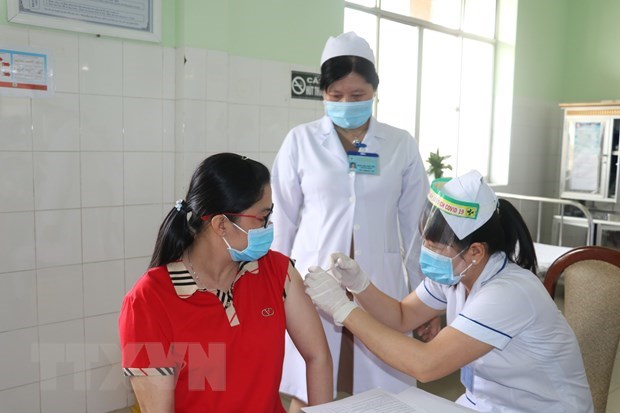 The COVID-19 vaccination programme is carried out in 19 provinces and cities in the first phase. (Photo: VNA)
Vietnam recorded no new COVID-19 cases over the past 12 hours to 6am on March 25, marking the seventh straight day without locally-transmitted infections, according to the Ministry of Health.

The total number of infections remains at 2,576, of which 1,601 are locally-transmitted cases.

Up to now, 10 provinces and cities nationwide have went through 40 consecutive days without new locally-transmitted COVID-19 cases, including Hoa Binh, Dien Bien, Ha Giang, Binh Duong, Hung Yen, Bac Giang, Gia Lai, Bac Ninh, Quang Ninh and Ho Chi Minh City.

The ministry's Department of Medical Service Administration reported that as of March 25, as many as 2,265 patients were given the all-clear from the coronavirus SARS-CoV-2.

Among patients under treatment at medical establishments, 54 tested negative for SARS-CoV-2 once, 21 twice and 45 thrice.

Up to 36,480 people who had close contact with patients or entered from pandemic-hit areas are under quarantine.

According to the National Expanded Programme on Immunisation, an additional 1,906 people were vaccinated against the disease on March 24, raising the total to 39,817, mostly front-line health workers and staff of the National Steering Committee for COVID-19 Prevention and Control.

The COVID-19 vaccination programme was carried out in 19 provinces and cities in the first phase.

The MoH said its working delegation will inspect COVID-19 prevention and control, and vaccination in Hanoi on March 25./.

VNA