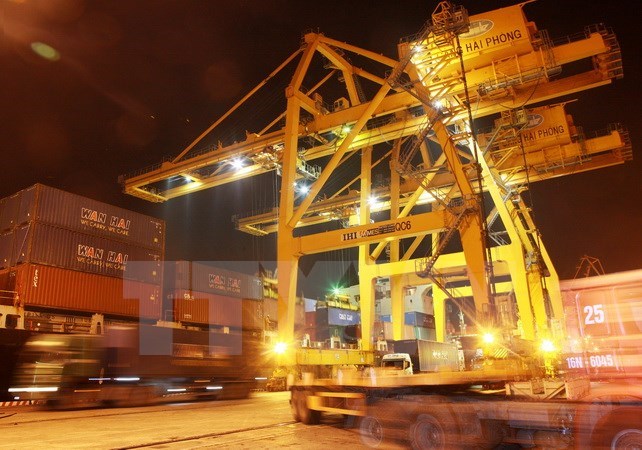 (Illustrative image. Source: VNA)
Ways to reduce logistics costs and improve transport connectivity were the main topics of a national conference held in Hanoi on April 16 under the chair of Prime Minister Nguyen Xuan Phuc.

A World Bank report showed that the expenses for logistics services accounted for 20.9 percent of Vietnam's gross domestic product (GDP), of which transportation costs amount to 59 percent.

According to the Ministry of Transport, the shipping costs of a 40 feet container from Hanoi to Ho Chi Minh City (excluding loading and unloading costs) is estimated at 40 million VND (1,762 USD), 9.7 times higher than that of sea routes and 2.5 times higher than that of railways.

The high costs of road transportation is due to unhealthy competition as transactions are conducted mainly through intermediaries and transport businesses have failed to optimise their operations, Deputy Minister of Transport Nguyen Van Cong explained, adding that the costs of oil and petrol make up around 30-35 percent while the toll fees account for about 10-15 percent.

Meanwhile, the transportation via railways, inland waterways and sea routes has yet been upgraded with long transport time and expensive loading and unloading services, he said, adding that the connectivity between transport businesses is limited and the information sbout the market demand is insufficient.

To reduce logistics costs, the Ministry of Transport said it is necessary to invest in building a national expressway network to ensure effective connectivity to industrial parks, key economic centres, border gates, seaports, railway stations, and inland water ports.

The railway sector needs to build goods transportation stations and upgrade loading and unloading facilities and warehouses to provide common services for all transport enterprises.

Additionally, it is recommended to develop container transportation via inland waterways.

The transport ministry suggested forging transport connectivity between seaports, roads, railways and inland waterways.

Meanwhile, the aviation sector needs to develop freight services by establishing a cargo route network, encouraging investors to build regional cargo airports, and providing incentives for airlines to open routes to the cargo airports.
Source: VNA