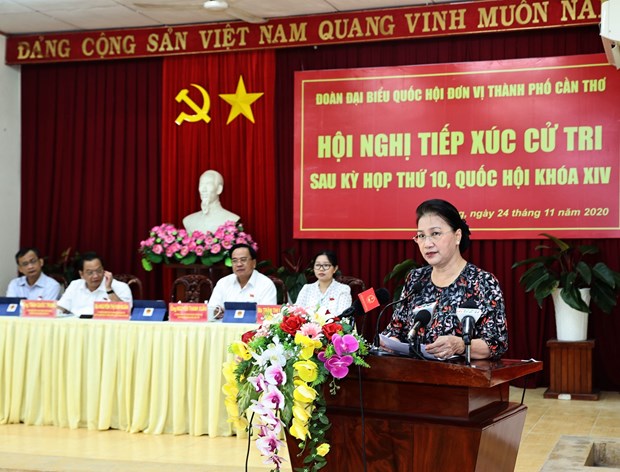 NA Chairwoman Nguyen Thi Kim Ngan speaks at the meeting with voters in Cai Rang district of Can Tho city on November 24 (Photo: VNA)
The National Assembly (NA) has paid close attention to the heavy toll that natural disasters have caused to many areas of Vietnam, NA Chairwoman Nguyen Thi Kim Ngan said while meeting with voters in Cai Rang and Phong Dien districts in the Mekong Delta city of Can Tho on November 24.

Responding to voters' concern about rampant natural disasters hitting the country, including saltwater intrusion and riverbank erosion in the Mekong Delta, and flooding in the central region, Ngan said the NA has been working to strengthen the relevant legal framework to facilitate work to alleviate damage caused by disasters.

She added that the NA had adopted the revised Law on Environmental Protection during its 10th sitting, which is expected to make the prevention of and response to natural disasters more effective.

Chairwoman Ngan also noted that the Government has issued Resolution 120/NQ-CP on sustainable development in the Mekong Delta, which devotes much attention to solutions to respond to climate change. She added that the local agricultural sector should also make changes to crop structure to adapt to the situation.

The top legislator moved on to note that investment has been poured into developing transport infrastructure in the Mekong Delta, but due to the region's soil conditions, road construction is costlier than elsewhere.

The Government has developed the 40-km HCM City - Trung Luong Highway while the Trung Luong - My Thuan Highway is scheduled to open to traffic at the end of this year, she said, adding that My Thuan 2 Bridge, which connects the Trung Luong - My Thuan and My Thuan - Can Tho Expressways, will complete the transport network from HCM City to Can Tho.

These projects are included in the medium-term public investment plan for the next five years, she said.

The NA Chairwoman later briefed voters on issues tabled at the NA's 10th sitting, which wrapped up earlier this month, and the socio-economic situation since the beginning of the year.

She urged everyone not to let their guard down against COVID-19, and underscored the importance of agriculture in national economic growth amid the pandemic.

While the service sector has been hardest hit by COVID-19, the agriculture sector has managed to contribute greatly to the national economy and even to global food security through export of farm produce, she said.

The NA chairwoman also congratulated the city for being the first in the Mekong Delta and the third in the country to complete new-style rural building a year ahead of schedule./.

VNA