(CTO) - On November 21st 2022, the Can Tho department of external affairs coordinated with related units to organize a meeting at Can Tho University of Technology to celebrate the 30th anniversary of the establishment of diplomatic relations between Vietnam and Republic of Korea (RoK) (December 22nd, 1992 - December 22nd, 2022) and the opening of Vietnam - RoK Cultural day.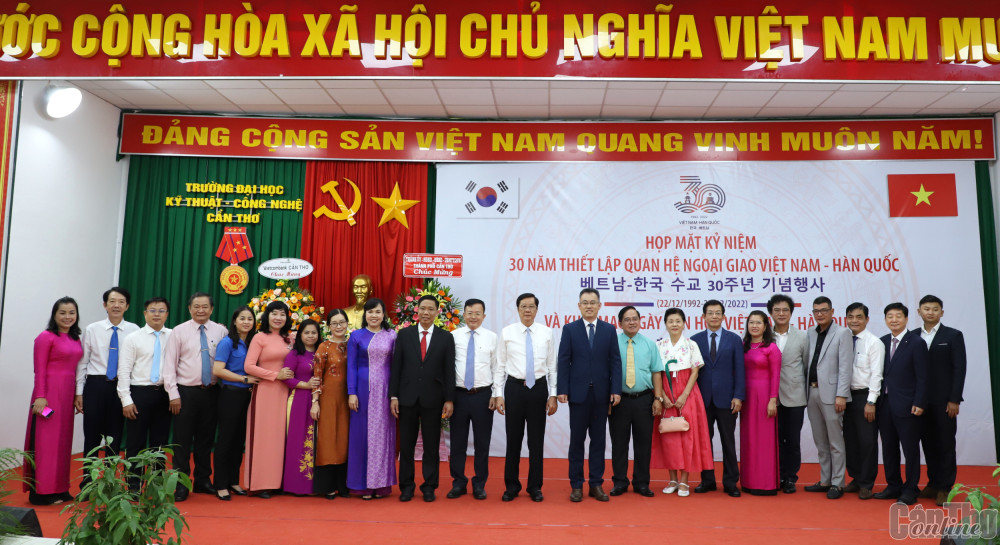 Delegates took souvenir photos at the meeting.
The meeting was attended by Mr. Ha Gwang Yun - Head of the Southeast Asia representative office of Jeollanam-do Province; representatives of Korean businesses and communities living and working in Ho Chi Minh city, Can Tho city and Mekong Delta provinces. Can Tho city's representatives were Mr. Pham Van Hieu - Standing Deputy Secretary of the City Party Committee, Chairman of the City People's Council; leaders of the People's Committee, Vietnam Fatherland Front Committee and representatives of departments and districts.
Addressing the event, Mr. Nguyen Thuc Hien - Vice Chairman of the Can Tho city People's Committee - expressed his excitement at the important achievements of the two countries after 30 years of establishing diplomatic and cooperative relations. Can Tho identified RoK as one of the leading important partners in the process of international integration. On behalf of the city People's Committee, Mr. Nguyen Thuc Hien thanked the Korean government and organizations and localities for their cooperation and support Can Tho City in implementing many practical programs and activities, making positive contributions to the general development of the city. At the same time, he expressed his belief that this good cooperation relationship will develop more and more.
Mr. Ha Gwang Yun expressed his delight with the friendly cooperation between Jeollanam-do and Can Tho in particular and Vietnamese provinces and cities in general, which is building trust and good friendship. On the occasion of the 30th anniversary of the establishment of diplomatic relations between Vietnam and Korea, Mr. Ha Gwang Yun hoped to cooperate more closely with Can Tho in the near future.
On the occasion, the organisers awarded the contest "learn about Jeollanam-do, the relationship between Can Tho and Jeollanam-do as well as the cooperation relationship between Vietnam and RoK" on social networks; awarded 270 scholarships (each worth 2 million VND) to students overcoming difficulties in studying well and Vietnamese - Korean children in difficult circumstances.
After the meeting, the delegates participated in the Vietnam - RoK Culture Day. The festival had 20 stalls displaying and exhibiting traditional cultural items and dishes of the two countries and many activities, such as a cooking contest of Vietnamese - Korean dishes; Vovinam, Taekwondo martial arts performances; K-pop performance and many dance performance …
HONG VAN (Translated by THAI THANH)