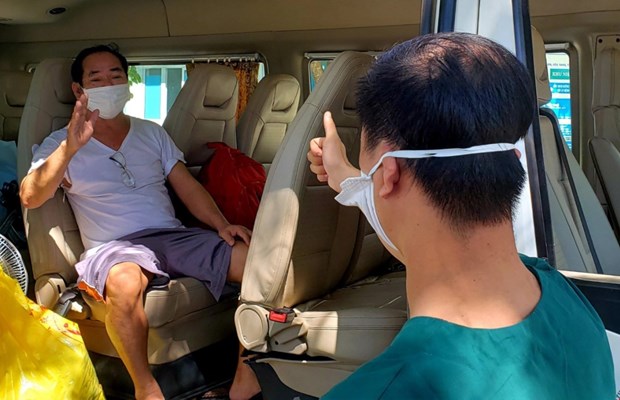 Patient 936 (L) waves at a medical worker of the Hoa Vang COVID-19 treatment hospital on September 23 when preparing to return home (Photo: VNA)
The last COVID-19 patient in central Da Nang city to recover from the disease was discharged from hospital on September 23.

Patient 936, admitted to the Hoa Vang COVID-19 treatment hospital on August 15, tested negative for SARS-CoV-2 coronavirus three times and will be quarantined at home for a further 14 days.

Today is the 26th straight day Da Nang has been free of any community transmission of COVID-19. The city was the scene of the latest outbreak in Vietnam, which began on July 25.

Dr Dang Cong Quyt from the Hoa Vang COVID-19 treatment hospital said it handled the largest number of patients in mid-August - nearly 200 at a time.

Despite concerns about the lack of specialised medicine and the number of patients with underlying health conditions and related fatalities, thanks to support from medical experts and hospitals in other localities, the hospital managed to cure its patients, he noted.

Director of the Da Nang Department of Health Ngo Thi Kim Yen attributed the success in COVID-19 containment to efforts not only by the local health sector but also the entire political system, local residents, and citizens nationwide.

As of the morning of September 23, Vietnam had been free of community transmission of COVID-19 for 20 consecutive days.

Of the total of 1,068 cases, 691 were community infections, including 551 linked with Da Nang since July 25. There were 980 patients in total who recovered, while 35 died./.

VNA