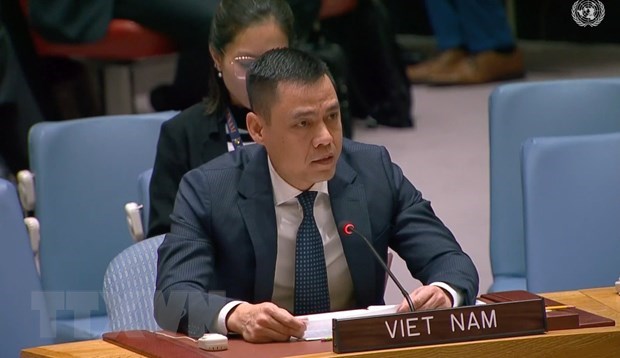 Ambassador Dang Hoang Giang, Permanent Representative of Vietnam to the UN (Photo: VNA)
Ambassador Dang Hoang Giang, Permanent Representative of Vietnam to the UN, has affirmed that international law is the foundation of modern international order and world peace in his remarks at the first open debate of the UN Security Council this year.

Entitled "The promotion and strengthening of the rule of law in the maintenance of international peace and security", the January 12 ministerial-level event was attended by nearly 80 UN member countries.

The Vietnamese representative said states, large or small, are responsible for complying with the UN Charter and fundamental principles of international law, including respecting the independence, sovereignty and territorial integrity of states, refraining from using or threatening to use force, peacefully settling disputes, and fulfilling international obligations in good faith.

He called on the council and its members to take the lead in ensuring respect for the UN Charter and the rule of law and seeking peaceful measures to all disputes.

Giang took the occasion to reiterate Vietnam's efforts in maintaining peace and security and promoting the rule of law within the Association of Southeast Asian Nations (ASEAN) and between ASEAN and its partners, including the implementation of Declaration on the Conduct of Parties in the East Sea (DOC) and the negotiation process of a Code of Conduct in the waters (COC) in accordance with the 1982 United Nations Convention on the Law of the Sea (UNCLOS).

Last year, Vietnam initiated the establishment of the UNCLOS Group of Friends, which gathers nearly 120 member countries, with a view to promoting the wide understanding and application of as well as compliance with this convention, the ambassador added.

Lauding the debate's topic given many challenges facing international rule of law, speakers highlighted the upholding of multilateralism and respect for the basic principles of international law in promoting the international order based on rules and the rule of law among nations.

Echoing the view in a joint speech, ASEAN said the bloc is committed to the maintenance and promotion of peace, security and stability in the region, including the East Sea, as well as to the peaceful settlement of disputes in line with international law.

ASEAN also vowed to continue working actively to soon achieve a substantive and effective COC in accordance with international law and UNCLOS./.

VNA