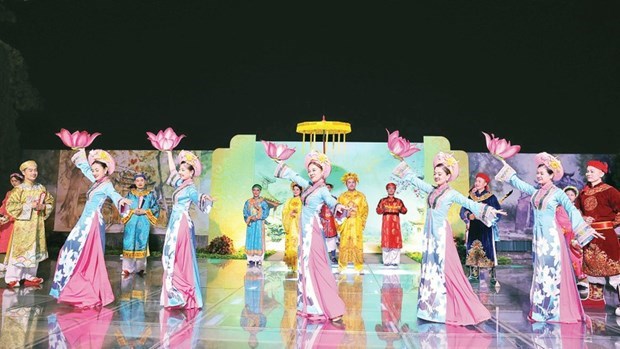 A performance - part of night tour at The Thang Long Imperial Citade. (Photo: nhandan.vn)
Hanoi is a pioneer in developing night-time tourism and now there are various options for visitors to do in Hanoi at night. However, to attract visitors, Hanoi's night tourism still needs a strategic plan, according to experts.
A number of tourism attractions in the city have offered tours designed especially for the nighttime. The Thang Long Imperial Citadel, a World Heritage site has created a 120-minute night tour called "Decoding the Imperial Citadel of Thang Long."
In July 2022, Hoa Lo Prison in the city also launched night tours taking visitors on a rollercoaster ride of emotions. Using light and sound effects, the 45-minute tour, called "Sacred Night - Glorious Vietnamese Spirit", tells the story of the prison, once called "hell on earth".
The tours are available every Friday, Saturday, and Sunday, and are not recommended for children under 16 years of age.
Late last year, the Vietnam Literature Museum, which covers an area of around 3,000sq.m and features displays of more than 3,454 artifacts representing the quintessence of Vietnamese literature, started offering night tours every Saturday and Sunday.
Those night tours are often fully booked, proving their popularity. Many travel businesses have included those night tours in the journeys of domestic and international tourists.
Although Hanoi night tour products have brought great experiences to visitors, creating a unique feature of Hanoi's tourism, Hanoi's night tourism faced problems relating to size, linkage, and quality of the tours.
Recently, the Ministry of Culture, Sports and Tourism has issued Decision 1894/QD-BVHTTDL on a project to develop various models of night tourism products, offering a wide variety of activities such as cultural and art shows, sport and health-beauty care, shopping and food.
Under the project, Hanoi is expected to have night entertainment complexes.
Phung Quang Thang, vice chairman of the Vietnam Travel Association said that tourism activities in the night economy require the participation of many sectors and especially people.
To get their engagement, appropriate mechanisms and policies are needed, especially specific ones for night economic activities, from which Hanoi can develop specific tourism products such as cultural tourism, food tourism, or shopping tourism.
In Hanoi, night economic activities are mostly developed in the Old Quater area in the Hoan Kiem district.
Thang suggested the city develop specialised night tours combined with food tours.
Nguyen Anh Tuan, Director of the Institute for Tourism Development Research suggested the city study and expand night tourism products such as the Red River tour, and more modern shopping centres in the city's inner areas.
Other experts said that Hanoi needs to expand the areas for night economic development, instead of just the Old Quater area.
The director of the city's Department of Tourism, Dang Huong Giang said that the department is drafting a plan on activities to develop Hanoi night tourism products.
By the end of the year, the city will launch some more night tourism products to further attract tourists, she said./.
VNA