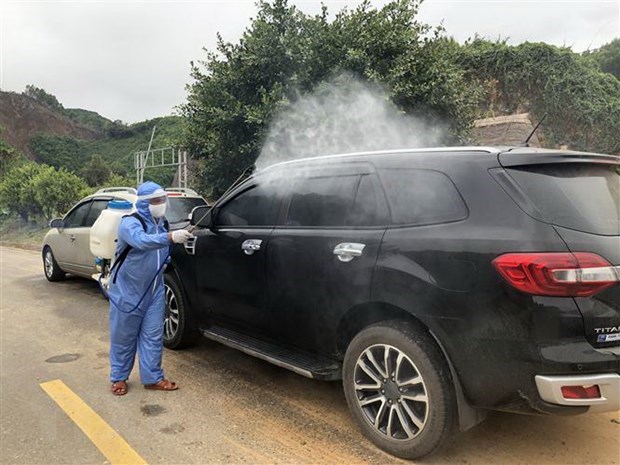 Cars in a road in Quang Nam province are being disinfected. (Photo: VNA)
Germany's Junge Welt (Young People) daily on April 18 ran an article explaining why Vietnam can contain the spread of the COVID-19 pandemic.

The article said the number of COVID-19 cases in Vietnam is significantly fewer than that in many countries in Europe and America.

The reason for this is the rapid concentrated quarantine of people infected with SARS-CoV-2 that causes the respiratory disease, along with appropriate measures to quarantine those who have been in contact with the patients, it elaborated.

With the aim of swiftly detecting as many as possible people included in the contact list and quarantine them, Vietnam has put the pandemic under control.

However, the country still maintains its strict regulations in the fight against the epidemic, such as closing schools, kindergartens, restaurants and shops that do not provide food and daily supplies.

Besides, wearing face masks when going out is compulsory, and any violations will get punishments.

The article said when a person in Vietnam tests positive for the virus, competent forces will immediately conduct contact tracing and quarantine.

Right after dozens of COVID-19 cases relating to Hanoi-based Bach Mai Hospital late March were reported, the hospital had been closed and thousands of people linked to it had been placed under special medical supervision.

The infected people are monitored at quarantine areas, including military facilities, while others quarantine themselves at home. Those who cannot go shopping or receive no food from their families will be supported by authorities of residential areas. The observance of medical quarantine regulations is under close supervision./.

VNA