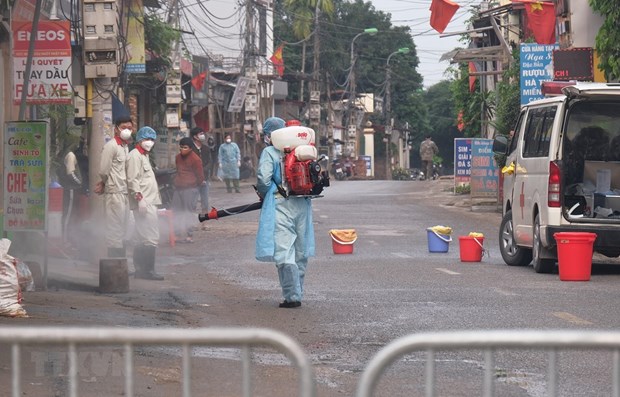 Spraying disinfectant to prevent spread of COVID-19 (Photo: VNA)
Preventing the spread of COVID-19 has become a priority of millions of Vietnamese people over the past time, according to British freelance journalist Georgina Quach.

In a recent article posted on the website OneZero, the writer mentioned the proud success of Vietnam in the battle against the pandemic.

"One of the most effective tools Vietnam used to manage the spread of the coronavirus was public education, often deployed via popular social media channels," she said.

The journalist cited that in February, Vietnam's health ministry released the viral hand-washing song "Ghen Co Vy" (Jealous Coronavirus), spreading preventive advice to millions of people. The hashtag #GhenCoVyChallenge has 37.7 million views and counting on the platform.

Vietnam's communication apparatus was also critical for implementing nationwide programmes, she said, adding that early on, Vietnam focused on targeted testing and aggressive contact tracing, a tactic that helped it become the first country to have stopped the local transmission of SARS 17 years ago.

Along with proactive monitoring, Vietnam also launched two smartphone apps, which enable users to log their symptoms and voluntarily report suspected infections in their areas, thus identifying hot spots.

Meanwhile, journalist Dana Kenedy recently posted a story titled "How did Vietnam manage to avoid even one coronavirus death?" on the New York Post, praising Vietnam's achievements in response to COVID-19.

She quoted the US Cable News Network (CNN) as saying Vietnam ignored China and the World Health Organisation's initial insistence that there was no evidence of human-to-human transmission and deployed rapid measures like strict quarantine, and contact tracing.

Vietnam's first coronavirus cases were not reported until January 23, but by that time the country was prepared, she said.

Kenedy went on that Vietnam declared a national epidemic on February 1 though it had just six confirmed cases nationwide. All flights between Vietnam and China were halted, followed by the suspension of visas to Chinese citizens the next day.

Vietnam later lifted social distancing rules in late April after a three-week shutdown but hasn't reported any local infections for more than 40 days in a row. Businesses and schools have reopened, and life is slowly resuming a normal pace, she wrote./.
VNA