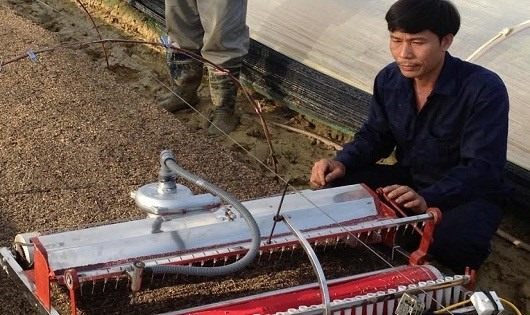 The inventions of Pham Van Hat are among many products designed by Vietnamese farmers that save time and simplify cultivation techniques (Photo: vietnamnet.vn)
As most of the machines used in the agricultural sector are imported, innovations in agricultural machinery made by Vietnamese farmers are being viewed as "rain after the drought".

The innovations are bringing a new face to the agricultural sector because they save time and costs, and simplify cultivation activities.

Pham Van Hat, a farmer from the northern province of Hai Duong, can remember the day he faced bankruptcy in 2013 after failing to trade organic vegetables and losing 3 billion VND (132,000 USD).

The bankruptcy, however, opened new doors when he decided to go to Israel as a guest worker. During his time there, Hat was responsible for putting manure on 100ha of vegetables per day.

After a time, he decided to meet the manager and proposed suggestions on how to make a machine that could do the job.

Receiving approval, he presented his first machine which could do the work of 25 people within a few days.

The company increased his monthly salary from 1,000 USD to 2,500 USD.

Hat later returned to Vietnam to open a factory to make his machines.

He invented many kinds of machines to serve cultivation work like auto-sowing machines, fertilizing machines, corn-sowing machines, bean-sowing machines and vegetable seed-sowing machines.

He has invented 30 machines, with an auto-sowing machine replacing a workforce of 40. In a trial run, four people could sow only one square metre within five minutes.

His machine, however, could sow eight square metres in one and a half minutes.

The machine has been improved every year and has been exported to many markets, including Germany, the US, Singapore and Thailand.

Other machines he made for fertilisation can do the work of 50 people.

Tran Dai Nghia, a farmer from the northern province of Thai Binh, developed a machine that helps farmers improve cultivation.

Nghia, who began working in the Republic of Korea in 2001, decided to make a cultivation tool in 2009, several years after returning to Vietnam.

His tool is small enough that it can be used by children or the elderly.

"My family has many farms. It costs me about 250,000 VND to hire one person to cultivate for one day. The machine I bought from Nghia helps me save a lot of money," said Phan Chau Giang, a farmer from Vu Thu district of Thai Binh province.

The inventions of Hat and Nghia are among many products designed by Vietnamese farmers that save time and simplify cultivation techniques.

Some foreign companies want to buy these products but there have been no professional events for the farmers to advertise their goods. They have mostly contracted with partners via phones or manufacturers.

This problem will be solved at the end of this month, when the biggest exhibition for agriculture, forestry and fisheries will take place in Hanoi.

The first-ever Vietnam International Exhibition on Machineries and Technologies of Agriculture, Forestry and Fishery (Growtech 2017) will be held from November 30 to December 2.

It is organised by the Ministry of Industry and Trade, Science and Technology and Ministry of Agriculture and Rural Development.

For the first time in Vietnam, farmers and fishermen will be able to participate in an international exhibition showcasing the latest technologies and innovations in agriculture, forestry and fisheries.

Growtech is seen as a key for farmers to open the gate to step into the global market.
Source: VNA