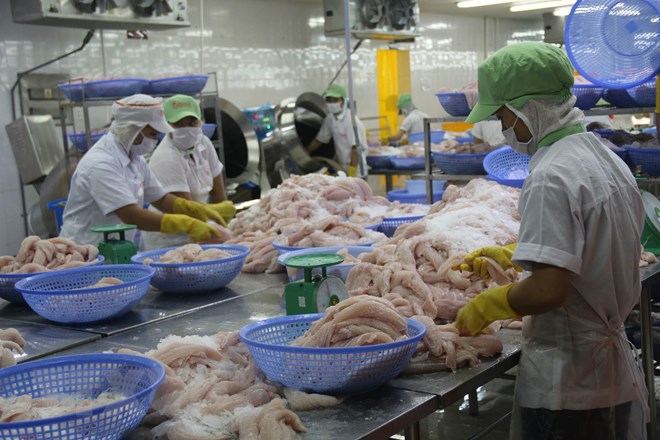 Exports of tra fish earns 438.2 million USD in the first three months of 2018 (Source: VNA)
Export turnover of tra fish reached 438.2 million USD in the first quarter of 2018, an increase of 18 percent year-on-year, according to the Association of Seafood Exporters and Producers (VASEP).

Some markets recorded strong growth such as China's Hong Kong (45 percent), the United States (22.7 percent), and ASEAN with 56.5 percent.

By the end of March, the export value of tra fish to China's Hong Kong hit 101.1 million USD, accounting for 23 percent of the first-quarter figure, up 45 percent over the same period of 2017. Hong Kong is also the largest export market of Vietnam.

VASEP has forecasted that exports of tra fish to this market will continue to grow due to its high demand.

There are some concerns about exporting products and goods to China due to uncertainties in the market's demand and payment method. Prices also matter as the prices through the official channel are often 1 USD per kg higher than the prices offered by cross-border channels. VASEP has requested the Ministry of Agriculture and Rural Department to quickly inspect tra fish processing units to ensure product quality.

At the same time, it urged the ministry to introduce more marketing and promotion programs in order to popularize tra fish in China. Exports of tra fish to ASEAN market also increased strongly in the first quarter of the year, reaching 46.7 million USD, up 56.5 percent over the same period last year.

Vietnam's three biggest tra fish importers in the bloc were Thailand, Singapore, and the Philippines, accounting for 97.9 percent, 26.8 percent and 32.7 percent, respectively. It is forecasted that in 2018, ASEAN will continue to be the third largest import market for Vietnamese tra fish (after China and the US).

By the end of March, tra fish export value to the US reached nearly 75 million USD, accounting for 17 percent, and up 22.7 percent year on year. Exports of the product to the EU continued to decline by 17.7 percent to 41 million USD.

VASEP said that in the coming time, exports of tra fish to the US would continue to face difficulties due to the high anti-dumping tax rate, so ASEAN would be likely to overtake the US to become Vietnam's second largest tra fish buyer.
Source: VNA