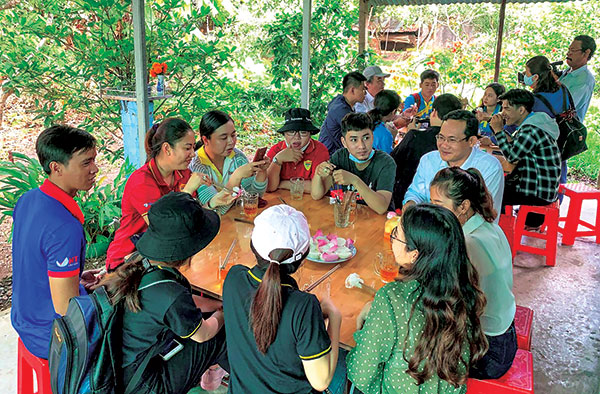 Tourists enjoy traditional food on Son Islet.
Nowadays, apart from experiencing destinations, enjoying cuisine is also a tourism trend. In Can Tho City, culinary culture is a strong point that needs to be boosted to create its own brand.
The Mekong Delta in general and Can Tho in particular is known as the cradle of the so-called "Garden Civilization" where people's lives are involved in agriculture and nature. Hence, dishes are all cooked with natural and fresh ingredients coming from various sources of agro- aquatic products. Can Tho cuisine is diversified, stretching from rustic dishes to modern ones.
When referring to Can Tho specialty, people often immediately think of "bánh tét lá cẩm" (cylindrical glutinous rice cake with magenta leaves), which has brought fame to Binh Thuy District- home to many brilliant artisans in food culture. Today, the colour and flavor of Can Tho cylindrical glutinous rice cake is not only limited to magenta leaves but also expanded to include the new kinds of higher value.
Artisans like Ms. Bay Muon, Ms. Nam Phuoc, Ms. Nam Minh are well known in Son Islet community tourism. They not only keep traditional cakes like "bánh in" (snow-flaked cake), "bánh kẹp" (pancake), "bánh lọt" (cendol), etc but also preserve the simplicities of ancient Southerners with rustic dishes such as "dưa chuối" (banana pickle), "cá nướng lá sen" (grilled fish wrapped in lotus leaves), "cơm gói mo cau" (rice wrapped in areca spathes), "lục bình xào tép" (fried water hyacinth with small prawns), and so on. That's why Son Islet cuisine has a strange and attractive charm in the busy life of the city.
Meanwhile, Phong Dien District is dubbed as the fruit capital of Can Tho and also the land of many food artisans specialized in unique dishes. The most popular courses which must be mentioned are "bánh ít trần nhân vịt xiêm" (sticky rice dumplings stuffed with duck meat) and "bánh xếp (Vietnamese crispy dumplings). However, to many visitors, the most unique dishes in Phong Dien are those made of fruits like "gỏi măng cụt" (mangosteen salad), "sầu riêng chiên" (fried durians), "ổi chiên giòn" (crispy fried guavas).
Cai Rang, Thot Not, Co Do, Thoi Lai, Vinh Thanh, and O Mon districts have mouth-watering dishes as well.
Street food is also a must-eat in Can Tho. Having come into existence for only a few years, but it is strongly alluring tourists. In addition to regularly visited places such as Ninh Kieu Quay, Tran Phu Street, Le Lai Street, the emerging areas including Huynh Cuong Street (Xang Thoi Lake), Mac Thien Tich Street have also become favorite destinations for young travellers.
Street food and junk food easily find a way into the heart of visitors because they represent the cultural uniqueness of each locality. Therefore, they must be considered a striking feature of local tourism.
Obviously, Can Tho has a diversified cuisine culture which can attract tourists from far and wide.
AI LAM (Translated by AI LINH)