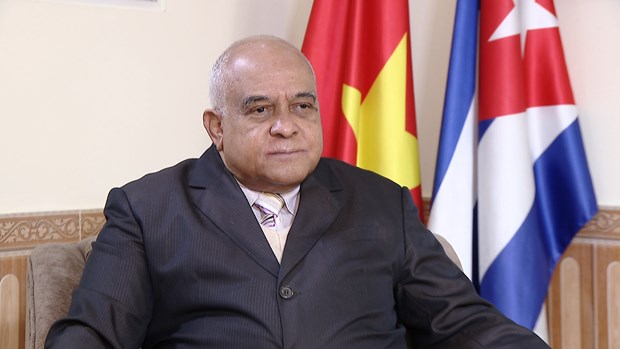 Cuban Ambassador to Vietnam Orlando Nicolás Hernández Guillén (Photo: VNA)
The presence of developing nations like Vietnam – a country which experienced wars for national liberation in the past and has recently gained remarkable economic achievements – in the United Nations Human Rights Council (UNHRC) is of great significance, Cuban Ambassador to Vietnam Orlando Nicolás Hernández Guillén has stated.

In an interview granted to reporters of the Vietnam News Agency on the occasion of the Lunar New Year, the ambassador affirmed that Cuba totally supports Vietnam's election to the council in the 2023-2025 term.
According to the diplomat, Vietnam represents the struggle for human rights of its people, reflected through the country's history of struggling for national liberation, as well as its efforts in national development and international integration, and its fight for peace.

He also appreciated social progress gained by the country, especially in health care and education.

The Cuban Ambassador highlighted Vietnam's outstanding achievements in economic recovery and development post COVID-19, notably the GDP growth rate of 8% in 2022 – the highest in Southeast Asia.

He attributed the results to the Vietnamese Government's successful implementation of pandemic control measures, particularly the policy on vaccine diplomacy, which served as a basis to accelerate the country's recovery in various fields.

Ambassador Orlando said that in the context of difficulties caused by the COVID-19 pandemic, and worries about global economic recessions, Vietnam has taken effective solutions to make great strides in import and export activities, and foreign investment attraction; maintain stable macro-economic indicators, and curb the inflation rate under 4%.

These are admirable results, made possible by efforts to implement the Party's resolutions, the Government's governance, and the business community's active engagement, the diplomat said.

Regarding the bilateral relations, he emphasised that the Cuba-Vietnam relation covers all aspects of social life, and the two countries have maintained fine political relations, and close defence and security cooperation.

He appreciated the Southeast Asian nation's role in ensuring food security for Cuba, and thanked it for providing rice and sending experts and technicians to help the Caribbean country in agricultural production.

The diplomat showed his hope that the two nations will exert efforts to lift bilateral economic and trade relations to a new height to be commensurate with their tradition friendship, solidarity and cooperation.

He shared the happiness with the Vietnamese people on the arrival of the Year of Cat, saying that the Lunar New Year give him an opportunity to learn about the traditional customs and culture of Vietnam in particular and of Asian countries in general./.
VNA