(CTO) - On 24th October, Mr. Nguyen Van Hong - Vice Chairman of Can Tho city People's Committee - chaired a working session with leaders of Can Tho Investment - Trade Promotion and Exhibition Center and relevant units to review the preparation works for Vietnam International Agriculture Fair 2022.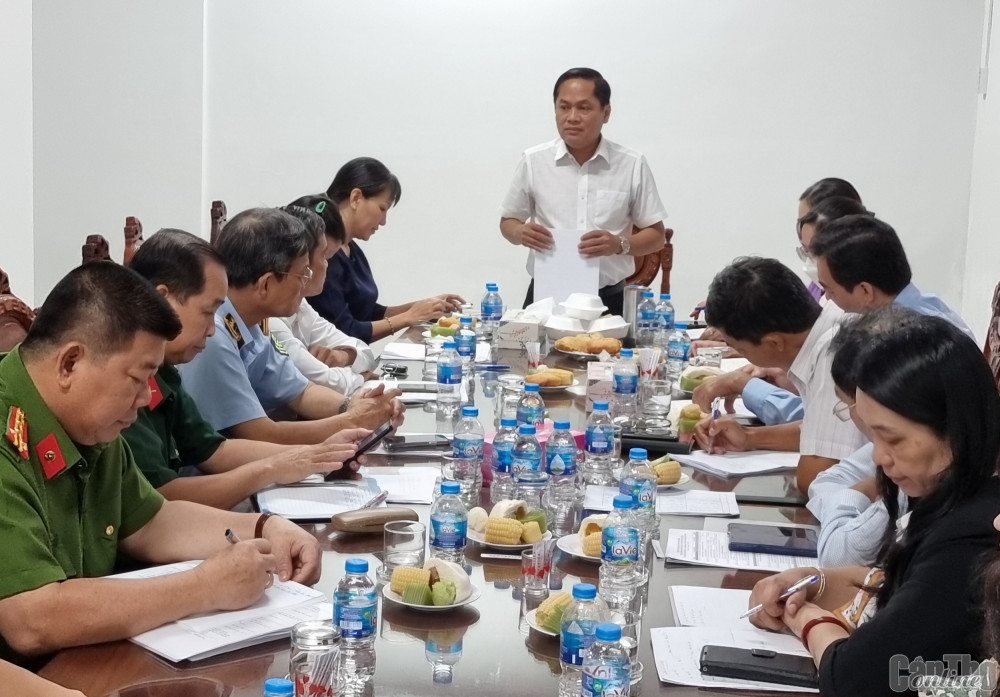 Mr. Nguyen Van Hong (standing) speaks at the meeting.
The Vietnam International Agriculture Fair 2022 will take place from November 2nd to 6th in Can Tho and attract 250 pavilions of 100 domestic and international enterprises. This year's fair not only aims to support farmers and businesses in trade promotion and product promotion, but also creates conditions for localities in the Mekong Delta region to call for investment and to introduce new products, potentials and strengths in the region's agriculture sector to domestic and foreign enterprises, business associations and investors. The fair also creates conditions to strengthen trade connections, cooperate in developing high-tech agriculture, boost the export of key agricultural products of Can Tho city and the Mekong Delta provinces; thereby, contributing to support people and businesses to restore and develop production and business activities after the COVID-19 pandemic.
According to the organising board, the preparations are being urgently carried out for the opening day. Besides displaying and introducing a variety of new agro-machineries, agro-equipments and farming technologies, participating units, enterprises, cooperatives and farmers also introduce many agricultural and forestry products, aquatic products, plant and animal varieties, start-up products, OCOP products, regional specialties. At the fair, there are also conferences, seminars, contests and programs to directly consult knowledge for farmers in the field of agriculture, cultural exchanges and art performances...
Speaking at the meeting, Mr. Nguyen Van Hong - head of the fair organizing board - emphasized that this is a very important fair and required Can Tho Investment - Trade Promotion and Exhibition Center continue to chair and closely coordinate with city and local departments to urgently carry out preparations to organize the fair well; paying attention not only to carefully prepare for organizing activities at the fair, but also to ensure environmental sanitation, urban beauty of the city, road traffic order and safety, parking services and prices etc to promote the Can Tho city's image.
KHANH TRUNG (Translated by THAI THANH)