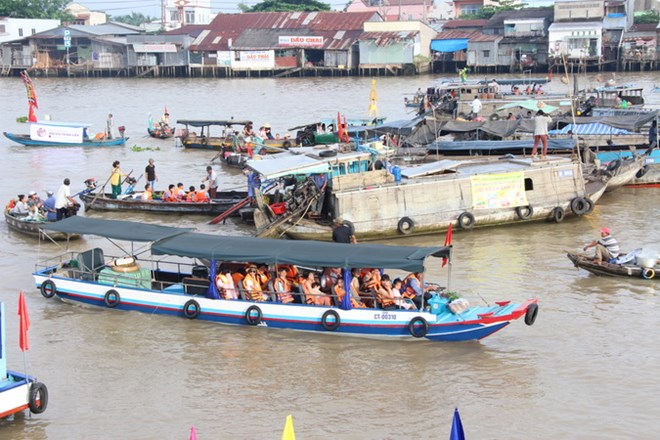 A corner of Cai Rang floating market in Can Tho city (Source: VNA)
The 4th Vietnam - Japan culture and trade exchange will be held in the Mekong Delta city of Can Tho from November 2-4, according to Vice Chairman of the municipal People's Committee Truong Quang Hoai Nam.

Addressing a press conference on September 9 in Can Tho, Nam said the event aims to promote trade, investment and culture exchange between the city as well as other Mekong Delta localities and Japan.

In 2018, authorities have organised a programme to enhance linkage between Japan and Mekong Delta localities which attracted the participation of 500 Japanese delegates and those from Mekong delta region, he noted.

The event is part of activities to celebrate the 45th anniversary of the Vietnam-Japan diplomatic ties, he added.

The 4th Vietnam - Japan culture and trade exchange will mark the debut of a direct flight from Tokyo to Can Tho with the largest ever number of Japanese entrepreneurs.

It is hoped to pave the way for opening more international flights to and from the Can Tho international airport in the future, Nam said.

In the framework of the proramme, a photo exhibition highlighting Japan's peace movement to support Vietnam during the war (1954-1975) and the Vietnam-Japan friendship will be arranged.

The event will also include a workshop on how to promote culture exchange and trade and investment cooperation between the Mekong Delta region and Japan.

Other activities will be an international agriculture exhibition, the groundbreaking ceremony of the Vietnam - Japan Industrial Park in Can Tho, and a workshop to introduce tourism potential and destinations of the Mekong Delta region and Japan.
Source: VNA