(CT) - On August 28th, Standing Vice Chairman of Can Tho City People's Committee Duong Tan Hien received Mr. Alok Sharma - President of the 26ᵗʰ United Nations Climate Change Conference (COP26) and Mr. Iain Frew, British Ambassador - Designate to Vietnam, who are visiting Can Tho to learn about the impacts of climate change on the city.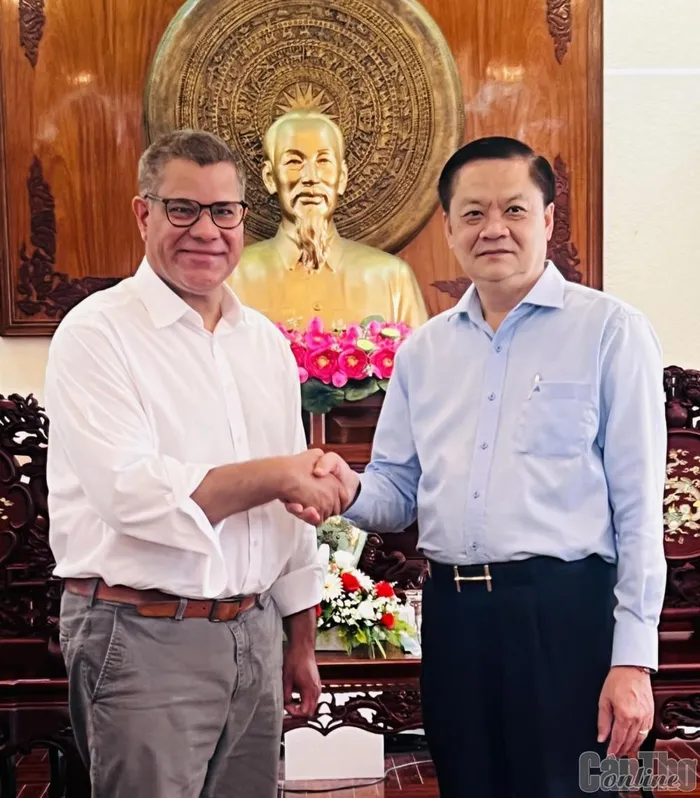 Mr. Alok Sharma (left) and Mr. Duong Tan Hien at the meeting.
At the meeting, Mr. Alok Sharma said that the main aim of this visit was to understand the impacts of climate change on the city people. Thereby, his delegation would support not only the implementation of commitments made at COP26, but also mobilizing the participation of the international community to implement climate change response programs in many countries including Vietnam. In addition, the United Kingdom also has global cooperation programs on climate change, especially in biodiversity conservation activities. Therefore, the President of COP26 expressed his expectation that more programs and projects will be carried out in Vietnam as well as in Can Tho City in the coming time.
Besides sending health wishes to all the guests and wishing the delegation to get good results during their visit and work in Can Tho, Mr. Duong Tan Hien also informed them that: Due to being located in the Lower Mekong River Basin, the Mekong Delta (including Can Tho City) is likely to be affected by climate change, rising sea level, saline intrusion ..., influencing the growth of the city as well as the livelihood and life of local people in the present and the future. Therefore, the city authorities always pay special attention to climate change's impacts and enlist the support of international organizations to implement projects and action programs on climate change adaptation...
Within the framework of the visit, Mr. Alok Sharma and the delegation together with the Institute of Climate Change Research, Can Tho University came to learn about the life and activities of the local people living on both sides of the Can Tho river; surveyed at An Khanh residential area, An Khanh ward, Ninh Kieu district to talk with researchers and local communities to understand the impacts of climate change and flood risk in urban areas. The delegation also visited the floating fish farm at Con Son, Bui Huu Nghia ward, Binh Thuy district to learn about the participation of the local people in building a model of biodiversity conservation and protecting aquatic resources against climate change impacts.
MINH HUYEN (Translated by THAI THANH)