(CTO) - On September 5, Vice Chairman of the People's Committee of Can Tho Nguyen Thuc Hien received and worked with a delegation from Lao Consul General in Ho Chi Minh City on the occasion of the 60th anniversary of the establishment of diplomatic relations between Vietnam and Laos; discussed the promotion and expansion of investment cooperation in many fields of strength between Can Tho City and localities of Laos.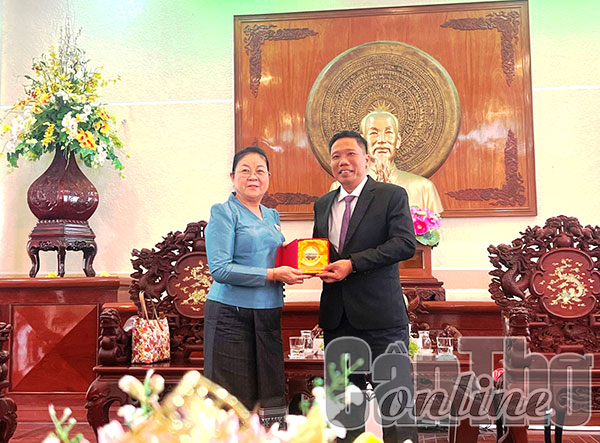 Mr. Nguyen Thuc Hien gave a souvenir to Ms. Phimpha Keomixay at the meeting.
At the meeting, Lao Consul General in Ho Chi Minh City Phimpha Keomixay thanked the leaders and relevant departments and agencies of Can Tho City for organizing many meaningful and practical activities on the occasion of the 60th anniversary of Vietnam - Laos diplomatic ties. Ms. Phimpha Keomixay said Can Tho City has many similarities with some Lao provinces, especially in terms of natural conditions for agricultural development. Therefore, in addition to the desire to cooperate with Can Tho in fields such as agriculture, commercial services and education, she hopes that the city leaders will pay attention and organize many delegations to visit localities in Laos. … Such visits could contribute to promoting the investment cooperation relationship between Lao enterprises and Can Tho investors in many fields.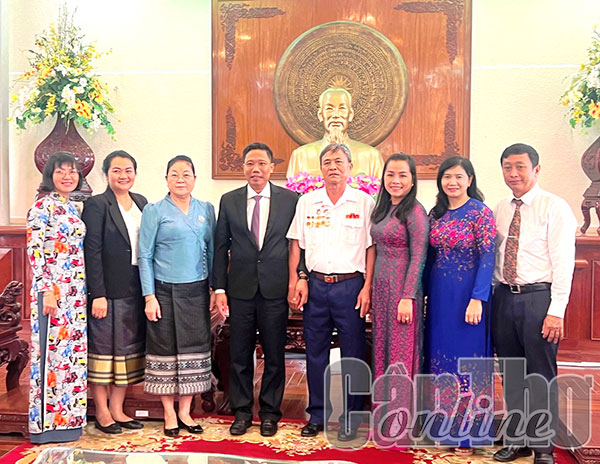 Delegates of Can Tho and Laos attended the meeting.
Speaking at the meeting, Mr. Nguyen Thuc Hien said: Along with the friendship, cooperation and cultural exchange activities between Can Tho and Lao localities, the city has had many cooperation programs with Lao localities, such as signing a cooperation memorandum between Can Tho City and Sanvannakhet and Champasak provinces of Laos…. Can Tho will organize many delegations, promote investment and cooperation activities between the city's enterprises and Lao enterprises. In particular, the city will focus on priority areas of local strengths such as high-tech agricultural development, production and processing of agro products, trade and tourism services..., contributing to enhancing the effectiveness of cooperation between Can Tho and localities of Laos.
MY HOA (Translated by THAI THANH)