(CTO) - On May 8, Can Tho city and Nasushiobara Nasushiobara city (Japan) held an online signing ceremony for a Memorandum of Understanding (MoU) on cooperation in the fields of agriculture and tourism. At the Can Tho bridge point, Mr. Tran Viet Truong - Chairman of the People's Committee of Can Tho city - chaired the signing ceremony.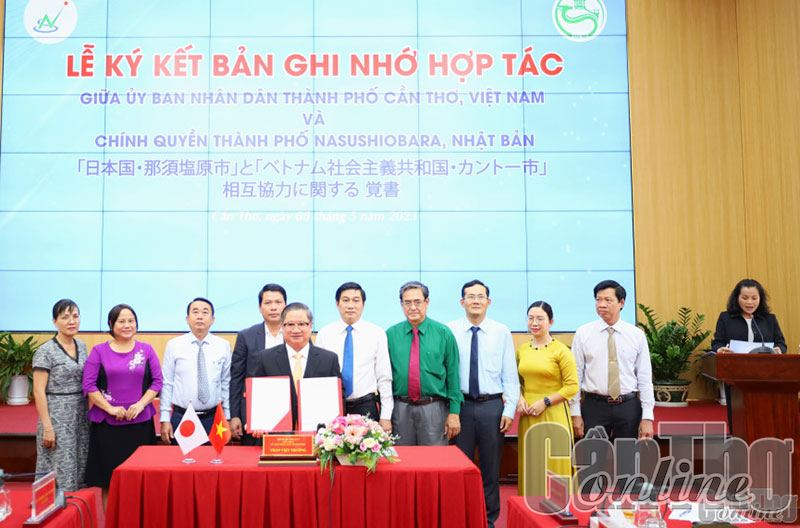 The scene of the signing ceremony at Can Tho city.
Speaking at the signing ceremony, Mr. Tran Viet Truong emphasized that the Can Tho city People's Committee highly appreciates the cooperation relationship with Nasushiobara, and Can Tho would try to effectively implement the cooperation contents after the signing ceremony, making practical contributions towards the 50th anniversary of the establishment of diplomatic relations between Vietnam and Japan (in 2023).
The signing of cooperation agreement between Can Tho city People's Committee and Nasushiobara city government is expected to bring practical effects to the people and businesses of the two localities, contributing to building a good relationship and close friendship between Vietnam and Japan.
The Chairman of the City People's Committee suggested that the two cities would continue to promote the exchange of delegations; create favourable conditions for entrepreneurs of the two sides to meet face-to-face, to exchange and research on the demands, advantages and actual capacity of each side, thereby promoting effective cooperation in the fields of agriculture and tourism, creating a premise for trade and investment cooperation.
Mr. Watanabe Michitaro, Mayor of Nasushiobara City, highly appreciated the efforts of the two local governments as well as units to sign the MoU. Through the signing, the two cities would develop a specific cooperation program that complements each other's strengths and is suitable for the development needs of both localities... The Mayor pledged to make efforts to promote more connectivity and connection, so that more and more Japanese investors know Can Tho.
Can Tho and Nasushiobara began to lay the foundation for cooperation in January 2020. Up to now, the relationship between the two localities has continuously strengthened with many friendly activities. In particular, senior leaders of the two localities had many visits and direct working, thereby identifying the two cities have great potential for cooperation, especially in the fields of agriculture and tourism…
NAM HUONG (Translated by THAI THANH)