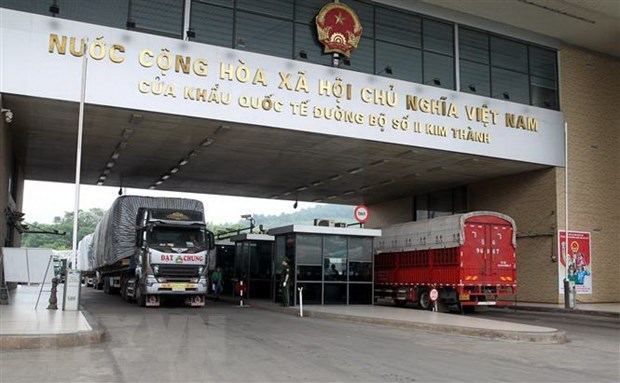 Export-import activities at Kim Thanh II International Border Gate (Photo: VNA)
Businesses have expressed their hope that customs agencies and relevant ministries and sectors will further simplify administrative procedures, which, they suggested, should be completely handled online, according to a survey.

The survey was conducted in 2020 among 3,657 firms operating in import-export, production, outsourcing, processing and logistics, among others, to find out their satisfaction with import-export administrative procedures.

Its results were announced at an online workshop held by the Vietnam Chamber of Commerce and Industry (VCCI) and the General Department of Vietnam Customs, with the support of the US Agency for International Development (USAID), in Hanoi on July 15.

VCCI Chairman Vu Tien Loc said Vietnam's export and import have still made noted achievements despite the impact of COVID-19 and the disrupted global trade as from 2020.

The country's total export-import value last year reached 545.3 billion USD, up 5.3 percent year-on-year, he cited figures from the General Statistics Office (GSO). In the first half of this year, the number stood at 316.73 billion USD, a rise of 32.2 percent from the same period last year.

The figures reflect great efforts of domestic firms amidst a range of challenges caused by the pandemic, Loc stressed.

The interviewed businesses suggested increasing publicity and transparency in the implementation of administrative procedures, upgrading the infrastructure system, and raising the capacity of officials.

Customs agencies and relevant ministries and sectors should better coordinate in this regard to create optimal conditions for enterprises to complete export-import procedures, they said.

According to Hoang Viet Cuong, deputy head of the General Department of Vietnam Customs, the businesses better evaluated the information provided by customs agencies, and were more satisfied with agencies' response to their concern.

Dau Anh Tuan, head of the VCCI's Legal Department, said the businesses lauded reforms in the customs sector and its improved service quality, notably positive changes in the inspection and management work.

They also suggested better coordination between customs agencies and concerned ministries and sectors, and stressed the need to ensure consistency and stability in building and realising policies and laws.

USAID/Vietnam Mission Director Ann Marie Yastishock applauded coordination between the Ministry of Finance and the VCCI and the General Department of Vietnam Customs in conducting the survey and releasing its outcomes.

The USAID wishes to continue its cooperation with the Vietnamese agencies to tighten the links between the Government and the private sector to consolidate the policy making and law enforcement in the time ahead, she said./.
VNA