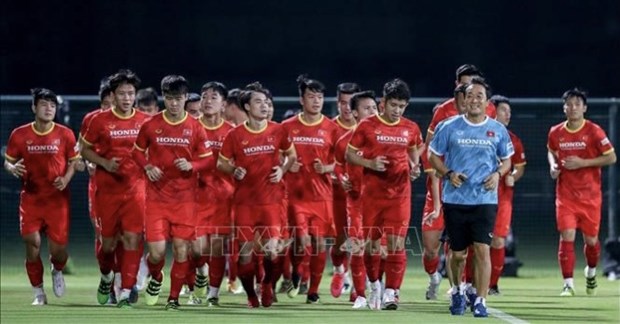 The Vietnamese team in a training session (Photo: VNA)
With a yellow card in the previous match against Malaysia, head coach of the Vietnamese national team Park Hang-seo has outlined all scenarios and strategies for his assistant Lee Young-jin to convey to Vietnamese players in preparation for their match against the United Arabian Emirates (UAE) on June 15 in the 2022 World Cup qualifiers.
At a press conference ahead the match, Park said the strategy remains in the right place though the UAE beat three other Southeast Asian rivals, namely Malaysia, Thailand and Indonesia.
He continuously urged his players to not rest on their laurels after winning regional teams.
Vietnam previously beat the UEA 1-0 in the first leg with a goal by Tien Linh. A similar result is not an impossible task for the team.
"They are really a strong team. We are on top of the group but UAE players' physique and technique are among the best in Asia. But I still have plan which will be used to help us win this match," Park said.
Meanwhile, the UAE's coach Bert van Mawijk also emphasised that his team targeted winning the game against Vietnam.
He acknowledged that it will not be easy, but his team know what to do.
All the players will show their best ability and skills before Vietnamese rivals in the game, he said.
Vietnam with 17 points need only a draw to make history. A loss with minimum result could also be enough as they may qualify as the best second-placed team.

Meanwhile the hosts, on 15 points, must win to take top place and qualify, otherwise they would be ousted./.
VNA