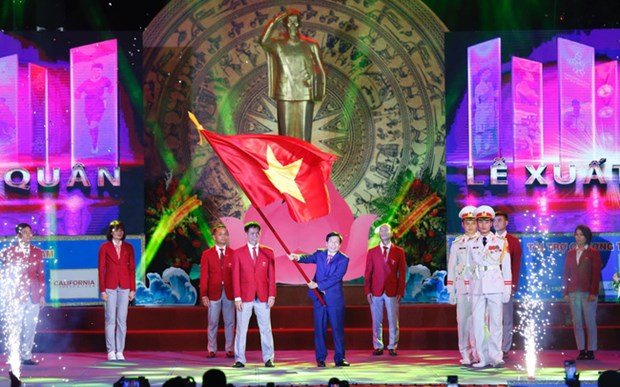 At the send-off ceremony (Photo: VTV)
A send-off ceremony was held in Hanoi on November 16 evening for the 568 athletes who are heading for the 2019 upcoming Southeast Asian (SEA) Games in the Philippines.

According to head of the Vietnamese SEA Games delegation Tran Duc Phan, the country's athletes will compete in 40 events at the biennial games, and strive to bring home at least 65 gold medals, particularly gaining excellent achievements in such Olympic sports as track and field, swimming, artistic gymnastics, fencing and wrestling.

At the ceremony, Minister of Culture, Sports and Tourism Nguyen Ngoc Thien said that SEA Games has played an important role in promoting solidarity, friendship and mutual understanding among the ASEAN member states, while creating opportunities for the athletes to show off their talent as well as improve their achievements.

He hailed the great efforts by coaches, experts and athletes who have been in intensive training for months, expressing his belief that they will get the highest results and finish among the top teams at the event.

Source: VNA