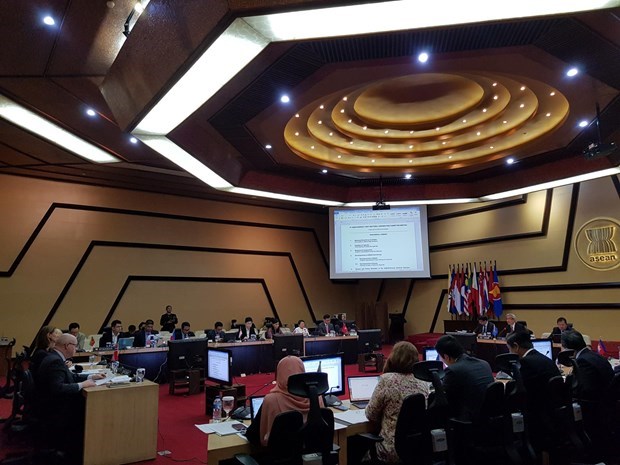 At the meeting (Source: Vietnam's permanent mission to ASEAN)

The 4th meeting of the ASEAN-Norway Joint Sectoral Cooperation Committee (AN-JSCC) took place in Jakarta on May 5, focusing on ways to promote win-win cooperation between the two sides in a practical manner.

Ambassador Tran Duc Binh, head of Vietnam's permanent mission to ASEAN, attended the event.

During the meeting, officials of ASEAN and Norway reviewed cooperation between the two sides in the framework of the ASEAN-Norway Sectoral Dialogue Partnership (ANSDP) in recent times, especially the implementation of the Priority Plan for ANSDP.

They highlighted that seven out of the nine action plans have been performed through 17 projects/activities within the Priority Plan, of which Norway provided an assistance of 659,820 USD for eight projects last year.

Projects in many fields are being implemented, bringing benefits to regional peoples. They focus on supporting women and children, promoting sustainable fishery, and addressing sea pollution in Southeast Asia.

Others related to climate change and energy, addressing humanitarian challenges, judicial support and human rights are also carried out.

The Norway side affirmed that it attaches importance to cooperation with ASEAN, and pledged to continue their support for ASEAN in building ASEAN Community, and implementing ASEAN vision 2025, towards narrowing development gap and implementing Initiative of ASEAN Integration (IAI), as well as fostering practical win-win cooperation in the fields of common concern.

Meanwhile, ASEAN officials appreciated the bilateral cooperation with Norway, stressing on enhanced collaboration with the North European nation in terms of trade and development of micro, small- and medium-sized enterprises; and in deploying the Initiative of ASEAN smart city network; energy security and environmental protection./.